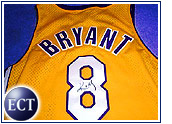 Buying a piece of fame online is easy because thousands of online celebrity auctions fill the pages of such Web action sites as Yahoo! (Nasdaq: YHOO) and eBay (Nasdaq: EBAY) every day.
Understanding the factors that motivate sellers and buyers of celebrity mementos, however, takes some study.
For example, Elvis Presley might be the King of Rock 'n' Roll, but he's not the King of Online Auctions. A search of eBay's listings Thursday afternoon revealed that NASCAR driver Jeff Gordon had approximately 6,600 listings, over 50 percent more than music legend Presley, who had 4,057 auctions listed.
Michael Jordan, the (currently) retired basketball great, had 4,300 listings, while the man some have called the next Jordan, Los Angeles Lakers basketball star Kobe Bryant, was nipping at Jordan's Nike heels with 4,013 listings.
And despite their seeming ubiquity in the media, actor George Clooney and actor-singer Jennifer Lopez came in lower on the notoriety scale, with fewer than 1,000 auction listings each.
The sellers of celebrity memorabilia range from ordinary people who have cleaned out their garages and decided to put their autographed photos of John Wayne up for sale, to the celebrities themselves auctioning off their own things for charity.
Morbid Choices
For many, a disturbing aspect of online auctions is that they appear to allow people to profit from a celebrity's death. For example, according to Auctionwatch.com, within days of NASCAR driver Dale Earnhardt's fatal crash at Daytona, Florida, the number of Earnhardt memorabilia auctions skyrocketed from approximately 3,000 to over 60,000. As of Thursday, there were 16,754 listings for Earnhardt-related items.
Reaction to the profiteering trend is mixed. One Auctionwatch.com poster wrote that "it's a shame that people jump so fast to make money on someone's passing." However, another poster defended the practice.
"While it isn't a choice I personally could make, selling morbid memorabilia is putting food on somebody's table," the poster said. "These sellers have a right to get what they can, while they can. Just like the Christmas PlayStation 2 people, or the Beanie Baby sellers in their heyday. Somebody wants to buy, then somebody's going to sell it to them."
Timothy McVeigh, who was executed Monday for the 1995 bombing of a U.S. federal building in Oklahoma City, Oklahoma, had 85 listings under his name.
Auctions with a Cause
On the other side of the spectrum, some celebrities are using Internet auctions to raise money for charity.
Over at eBay, golf great Tiger Woods is auctioning off the Buick Regal that he drove to and from his victory at this year's Masters golf tournament. Proceeds from the sale will benefit Woods' charitable foundation.
Auctions at Yahoo! are currently selling lithographs of the score to the Beatles' hit "Yesterday," as well as memorabilia by current pop stars Justin Timberlake and Britney Spears, with the proceeds set to go to charity.
For a Song?
The Yesterday lithographs, according to the auction listing, were "faithfully reproduced" from the original score and are "complete with mistakes, coffee stains and certificate of authentication."
Bids for the numbered lithographs, which are autographed by Paul McCartney and George Martin, range from US$450 to $4,500. Proceeds from the Yesterday auction will go to benefit the island of Montserrat, which was devastated by a volcano in 1997.
Items being auctioned by Spears and Timberlake include a shirt autographed by Timberlake, going for $650 as of Thursday, to a costume worn by Spears on her 2000 tour that earned a bid of $1,525. Proceeds from the auction will go to the Britney Spears Foundation and the Jason Timberlake Foundation.
Listing Marilyn
In the end, some celebrity auctions do very well, bringing in thousands of dollars, while others are not as successful.
For instance, an auction of Marilyn Monroe memorabilia at eBay in March ended with mixed results. A silk-and-chiffon gown worn in the movie "The Prince and the Showgirl" and a handwritten note on her reasons for seeking a divorce from her first husband, Jim Dougherty, went for $23,375 and nearly $3,000 respectively.
However, a set of nude photographs of the movie star failed to sell reportedly because all five bids received did not meet the undisclosed minimum price set by the seller, Tom Kelley, Jr.