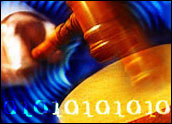 Another legal volley was fired Thursday in the international battle over Yahoo! auctions of Nazi memorabilia. The France-based International League Against Racism and Anti-Semitism (LICRA) has filed a motion to dismiss the federal lawsuit that Yahoo! filed in a U.S. court in December contesting a French court's order.
After a French judge ordered Yahoo! in November to find a way to bar French residents from accessing Web-based auctions of Nazi artifacts in a case brought by LICRA, Yahoo! turned around and sued LICRA in the U.S. District Court in San Jose, California.
In the U.S. case, Yahoo! is asking the judge to declare that the French court has no jurisdiction over Yahoo's operations, and that the French court's order violates rights guaranteed by the U.S. Constitution.
In making its motion to dismiss the U.S. case, LICRA argued that likewise, the U.S. court system has no jurisdiction over it.
"LICRA has absolutely no contacts with the United States," Katz said. "It is a voluntary organization in France that opposes racism and anti-Semitism. I think that there is virtually no chance that the court will find that [it] has jurisdiction over LICRA in San Jose, California."
Who Governs the Web?
Yahoo! manager of international public relations Scott Morris told the E-Commerce Times that Yahoo! has no choice but to pursue the U.S. case contesting which country's laws govern the Internet.
"We have to, for the sake of the industry," Morris said. "Not just for Yahoo!, for everyone that has business on the Internet."
In January, Yahoo! announced it would ban auctions of Nazi artifacts and other items "that are associated with groups which promote or glorify hatred and violence" on its U.S. site. However, the company has not agreed to abide in particular by the French court's order.
At the time, Yahoo! Auctions senior producer Brian Fitzgerald told the E-Commerce Times that the company had been discussing the change even before the French suit against Yahoo! was filed.
French Bar
The dispute over Nazi memorabilia auctions at Yahoo! began in April when LICRA, the Movement Against Racism (MRAP) and the Union of French Law Students (UEFJ) sued Yahoo!, charging the company with illegally hosting auctions that amounted to a "banalizing of Nazism."
Selling or displaying items that promote racism is illegal in France. While Nazi items are not offered on Yahoo's French auction site, French users are able to access the company's U.S. auction site.
In November, a French court told Yahoo! that it had 90 days to block French residents from viewing its Nazi memorabilia auctions, or it would face fines of US$13,000 each day.
The French court's ruling reaffirmed a May decision that had been delayed while a panel of experts determined whether it would be technologically feasible to bar French users from the auctions.