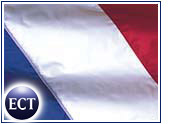 A French court ruled Monday that Web powerhouse Yahoo! has 90 days to block French residents from viewing auctions of Nazi memorabilia at its U.S.-based auctions site, or face fines of US$13,000 per day for each day it exceeds the deadline.
In issuing the ruling, Judge Jean-Jacques Gomez of the Paris Tribunal de Grande reaffirmed an order issued on May 22nd ordering Yahoo! to ban French residents from U.S.-based online auctions of Nazi memorabilia. Judge Gomez had delayed enforcing the order while a panel of experts determined whether or not it was technologically feasible to bar French users from the auctions.
On November 6th, a panel of three experts, led by "Father of the Internet" Vinton Cerf, concluded that because about 70 to 80 percent of French Web users could be identified through their Internet Protocol (IP) address, a filtering system could be devised that would bar users with France-based IP addresses from accessing auctions whose descriptions contain previously defined keywords.
When in France
The ruling addresses a suit filed against Yahoo! in April by the International League Against Racism and Anti-Semitism (LICRA), the Movement Against Racism (MRAP) and the Union of French Law Students (UEFJ). The lawsuit charged Yahoo! with illegally hosting auctions that amounted to a "banalizing of Nazism."
Selling or displaying any items that incite racism, including Nazi artifacts, is illegal in France. No such items are offered on Yahoo's French auction site, but French users are able to access Yahoo's U.S.-based auction site, where sales of Nazi memorabilia are allowed.
Although Yahoo! co-founder Jerry Yang told a French newspaper in June that his company would not alter content of its site to comply with a non-U.S. law, in August the company said that it would work with anti-Semitism groups and Internet experts to find a mutually acceptable solution.
Reverberations In Cyberspace
The consequences of Judge Gomez's ruling could signal a taming of the wild and woolly Web as companies struggle to comply with a myriad of conflicting laws and social mores.
"Imagine that we would decide to implement what's being asked of us," Phillippe Guillanton, Yahoo's chief executive in France, said in August. "Tomorrow, a judge from any country could come to a Web publisher from any other country and ask them to pull down such and such because it's unacceptable in that country."
Although this case is the first time that a court has ordered a U.S.-based company to block residents of another country from its site, it is not the first time that one country has imposed its will upon a company based outside its boundaries. In August, Saudi Arabia pulled the plug on clubs.yahoo.com because officials considered the content of some of the sites pornographic and morally offensive.
Yahoo! is not the only firm to be taken to task by residents of a foreign land over online material. Amazon stopped selling Hitler's "Mein Kampf" in Germany after complaints from the German government, which has strict laws against the dissemination of hate material.
Ruling Cyberspace
Although government entities take such actions to protect their citizens, there are some, including Cerf, who feel that such protections run counter to the nature of the Internet as a place where residents of different counties can freely exchange opinions and ideas.
The controversy over who governs cyberspace has led the Clinton administration and the U.S. Federal Trade Commission to call for global guidelines to govern cross-border e-commerce.
The American Bar Association has also weighed in. In July, the ABA's Global Cyberspace Jurisdiction Project concluded after two years of study that the Internet needs multinational rules that do not depend upon physical location.
"It's as if we've landed on Mars and we're constructing a commercial and business setting," project chair Thomas Vartanian said upon releasing the report. "We have to establish new rules of engagement and we have to get people used to dealing with those new rules."