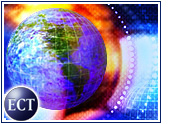 According to the U.S. Federal Trade Commission (FTC), the potential of international e-commerce may never be realized unless standards are adopted to regulate cross-border transactions.
The report, "Consumer Protection in the Global Electronic Marketplace: Looking Ahead," poses tricky questions about which laws — the buyer's or seller's — govern the transaction when a consumer makes an e-commerce purchase from a merchant in another country.
Country of Destination?
Allowing transactions to be governed by the laws of the "country-of-destination" — or the country of the buyer — provides protection for consumers similar to those they would enjoy in making purchases at the corner drugstore. Unfortunately, online merchants could conceivably be responsible for complying with hundreds of laws in hundreds of countries.
Many countries are already using a "country-of-destination" approach for governing cyberspace. A French judge recently ordered Yahoo! to find a way to stop French users from gaining access to auctions of Nazi memorabilia at the Web giant's U.S. auction site. Yahoo! has protested that such a block is technologically impossible.
Last month, the French court ordered a panel of experts to conduct a feasibility study on the issue.
At the time, Yahoo! senior vice president Heather Killen said, "This case opens up broader issues on Internet jurisdiction — whether one country has the jurisdiction to regulate the content of Web sites in another country."
Country of Origin?
Another approach is to allow the laws of the "country-of-origin" to govern e-commerce transactions. According to the FTC, this approach may lead companies in a "race to the bottom" to find the countries that have the most lax consumer protection laws.
The report said, "Even legitimate companies have incentives to minimize compliance burdens, although competitive pressures and concern about reputation may mitigate this effect."
Dispute Resolution
According to the FTC, the key to successful e-commerce is allowing consumers to make informed decisions — meaning that consumers need to be informed of what benefits and protections they are giving up before they buy across national boundaries.
The FTC said that sellers should tell consumers which country's laws and courts govern the transaction. In addition, sellers should tell consumers what their recourse would be under those laws if the transaction goes sour.
The agency is also advocating setting up an Alternative Dispute Resolution (ADR) system that would provide consumers with an avenue for resolving disputes. The FTC said that the dispute resolution system could be set up in cyberspace, the one forum that is likely to be convenient for both parties.
The benefit of setting up a cyber-ADR is that it would help businesses and consumers avoid the costs and burdens of international litigation.
In the event that a consumer does have to take an e-tailer to court, the FTC is calling for cross-border judgment recognition and enforcement. This option is important, according to the FTC, to provide consumers access to real-world remedies and to hold businesses accountable for their practices.
Nowhere To Hide
According to the FTC, the key to protecting consumers in cyberspace is to ensure that cybercrooks and shady business owners have nowhere to hide. The agency believes that if governments work together to develop partial convergence of national and international consumer protection laws, that goal can be accomplished.
While the FTC is not advocating a one-size-fits-all approach to legislation, it is suggesting that governments begin by developing areas where overlap already exists and agreeing on common protections, such as against fraud and deception, which can be enforced across borders.
The governments could also design uniform protections for specific sectors and types of transactions, such as cross-border contracts for the sale of products.
All for One
Not only will uniform laws give consumers more confidence in international e-commerce, they will also make it easier for governments to engage in joint law enforcement efforts because their cross-border colleagues will be enforcing the same protections.
"These steps will be challenging and take time, but the promise of the new marketplace will make the journey worth the effort," the agency said.
The FTC report builds on an international e-commerce workshop held last year and a set of guidelines adopted in December 1999 by the 29 countries in the Organisation for Economic Co-Operation and Development (OECD).