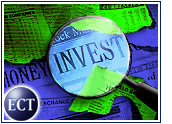 FreeMarkets (Nasdaq: FMKT) pickedup 22 U.S. cents to $11.36 in morning trading Monday following news thatdrugmaker Schering-Plough (NYSE: SGP) has signed on to continue using the company's online marketplace to buy and sell goods and services.
FreeMarkets said Schering-Plough executed a new two-year agreement touse FreeMarkets' B2B Global Marketplace. The drug company will "source avariety of goods and services" over the Internet for another two years,FreeMarkets said.
"Schering-Plough has been using FreeMarkets as part of its strategicsourcing and e-commerce initiatives since June 2000," said Jason Reneau, director and generalmanager of FreeMarkets' consumer goods business.
Schering-Plough, based in Kenilworth, New Jersey, is involved in the manufacturing and marketing of pharmaceutical products worldwide.
Pittsburgh, Pennsylvania-based FreeMarkets says it has created more than11,500 online marketplaces for more than $16.6 billion worth of goods. The company says more than 11,100 suppliers worldwide participate in its B2BGlobal Marketplace. FreeMarkets also operates an online exchange for surplusassets and inventory.
Last month, the company reported a 205percent year-over-year revenue surge, along with a narrower loss.
The revenue gain was "slightly short" of expectations because of a weakeconomy, FreeMarkets said. The company also lowered its outlook forfull-year revenue, though it maintained its loss forecasts for the secondquarter and the year as a whole.
The news led analysts at three securities firms to downgrade FreeMarkets shares.
FreeMarkets said it aims to break even on an operating basis in the first quarter of 2002.