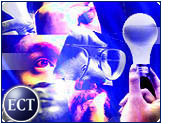 The Internet sector in four chief Asia-Pacific economies is undergoing a "major reformation," according to a report released Wednesday by the Yankee Group.
In its latest regional review of the e-business market in India, Indonesia,Australia and New Zealand, Yankee found that a host of Asian regulatorshave begun taking steps to open up their telecom markets by implementing key structural reforms.
"In the near term, the political dynamics of government bureaucracies willcontinue to play a role in revolutionizing the region's telecommunicationsindustry," said Yankee senior analyst Agatha Poon.
To this end, the study cited the Indian government's decision to cut shortthe monopoly of Videsh Sanchar Nigam, Ltd — which had been the exclusiveprovider of international telecommunication services in the country — toApril 2002 from 2004.
Fighting for Funds
With market competition in the region heating up, many Asian telecomoperators are struggling to reinvent themselves with long-term businessstrategies, said the report.
At present, Yankee said that internal restructuring, and in certain cases the injection of foreign funds, have been employed to bolster the competitive edge of individual telecom companies.
"Although it is too early to assess the relative merits of theserevolutionary schemes, the injection of foreign capital will be facilitatedby the growing globalization of the industry," said Poon.
Looking Ahead
Despite these notable developments, Yankee concluded that a complete liberalization of the Internet industry in the region remains a "distant reality."
The primary stumbling block to achieving open telecom markets revolvesaround the strategic importance of a country's network infrastructure. Forinstance, many conservative regulatory authorities have expressed concernsabout the issue of sovereignty underlying the industry's development.
Changes in Store
The Yankee report is the latest to conclude that major changes are in storefor the Asia-Pacific Internet industry.
On the e-commerce front, a study released last month by IDC predicted that online business-to-business (B2B) transactions in the region will reach more than US$61 billion by the end of 2002,compared to $12.8 billion in 2000.
Moreover, the research group said that of the $500 billion in B2B that the regionexpects to generate by 2005, 45 percent will occur through heavilyconsolidated e-marketplaces.