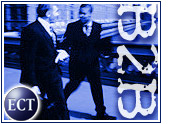 A familiar brand name is the most important factor being considered by corporate buyers on the Internet — even more important than price — according to a study released Thursday by e-business consulting firm Accenture.
The study, "Was It an Illusion? Putting More B in B2B," found that 80 percent of corporate buyers believe that brand and customer service weigh more heavily than price.
"The findings in our study were counterintuitive to what we would believe to be the case in B2B (business-to-business sales), which is that price matters first," said Stephen Dull, an Accenture partner and author of the study.
According to Dull, the survey results show that companies that focus their attention on the customer "will rise above the noise." Accenture surveyed almost 1,000 corporate buyers in preparing the report.
Internet Not Perfect
Approximately 43 percent of the B2B buyers surveyed by Accenture reported being "very satisfied" with their online purchasing experience.
In contrast, 52 percent of online retail consumers (B2C) were very satisfied shoppers. The lower customer satisfaction in the B2B sector was "symptomatic of a failure to identify and respond to the real demands of the market," Accenture said.
"B2B is still in its infancy," Accenture partner Mark Wolfe said. "Imagine if industrial marketers spent half as much effort as their B2C counterparts in creating a rewarding online experience for their customers. The adoption rate of e-commerce in B2B would skyrocket."
Large and Small
When analyzing B2B buyers according to the size of their companies, 34 percent of buyers working for small to mid-sized companies are "very satisfied" with their Internet suppliers, compared to 52 percent of online buyers from large companies.
Large companies are also more likely than small or mid-sized companies to buy online. The survey found that 23 percent of large companies do more than 25 percent of their purchasing online, compared to 18 percent of small and mid-sized companies.
In the aggregate, fewer than half of all businesses buy goods online. And among the companies that are buying online, 45 percent make less than 5 percent of their purchases online.
Global Variables
Debunking the common myth that the Internet has made global B2B easier, Accenture said that in practice, because there are so many variables to manage in conducting international B2B e-commerce, such transactions are more complex than doing business offline.
As a result, if a company does business in a large number of countries, it is less likely to make the bulk of its purchases online, Accenture found.
The survey revealed that for companies that do business in more than five countries, 19 percent transact 25 percent or more of their purchases online. By comparison, for companies that operate in fewer than five countries, 34 percent transact 25 percent or more of their purchases online.