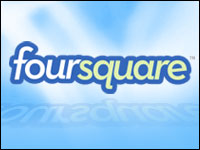 Foursquare is following up on a feature it introduced last week that layers on new ad functionality for brands seeking to target local customers.
Unveiled last week, "Local Updates" lets users keep up with places they like in their Friends tab. Now the social service has rolled out "Promoted Updates" in the Explore tab.
Promoted updates are similar to local updates except that businesses pay to promote them in Explore results. These updates can be a coupon or information on a new fashion line or, in the case of a local restaurant, a photo of a new dish, Foursquare explained.
Promoted updates are like ads seen on Google when a user searches for, say, exercise clothing, it said. Up pops the search results and alongside of them is a relevant ad.
A search using Foursquare's Explore, conversely, could turn up a special about a weekend sale at a local store the user visited, or otherwise expressed an interest in, which sells exercise clothing.
Foursquare uses the same algorithms that power the personal recommendations made via the Explore tab to select the "perfect" update for a user, it said. In other words, a user will never see a promoted update that is not relevant.
The company is rolling out the feature in a pilot project with 20 companies participating, including B&B Hospitality group, Crunch, Dave & Buster's, Gap, Hilton, Lowe's, Old Navy, Starwood Preferred Guest, The Standard Miami and Walgreens.
Foursquare did not respond to our request for further details.
A New Mindset
Foursquare has some pieces in play that should make promoted updates successful — but there's a piece missing, saidScott McIntosh, senior account supervisor and Web strategist with Lovell Communications and an avid Foursquare user.
What it does well is the local element. Having a constituency of users who avidly check in wherever they go is a big plus.However, what it is missing is a change in focus by these users, McIntosh told the E-Commerce Times.
"The problem is, right now people mainly use Foursquare to record an event as opposed to searching for something to do," he noted. Foursquare can make the shift, "but it will take time to get users to move to this mindset."
For instance, someone might use Foursquare while at a new restaurant to see what friends like there, McIntosh suggested, but that person wouldn't necessarily use the Explore feature to find the restaurant in the first place.
"More people have to start using the Explore feature for promoted updates to be very successful," he said.
It would also help if Foursquare were to become more user-friendly, McIntosh added. "The new design was confusing when it first rolled out, but I have gotten used to it now."
The Brand Perspective
These drawbacks aside, from a brand perspective — or at least an agency one — adding the promoted updates is a good move, according to Tom Edwards, The Marketing Arm's VP for digital strategy.
"The biggest advantage is that Foursquare is enabling its launch partners to push content beyond the current users that are actively engaged with a brand and enable connections with an entirely new customer base that may have a potential affinity for the brand but is not actively engaged," he told the E-Commerce Times.
The intelligence of the algorithm is also a key point of differentiation, Edwards continued. "The promoted updates display algorithm is based on a users actions tied to location, check-ins, tips and even time of day, as well as taking into consideration a user's friends' tastes."
Still, there is the drawback of linking promoted updates to the Explore tab, Edwards acknowledged.
"While this tab has seen increased engagement, a concerted effort may need to be introduced to modify existing user behavior beyond the utility of checking into a known location," he said.
As more of the promoted products are rolled out, added Edwards, additional brand integration into a user's activity stream will become more prominent.