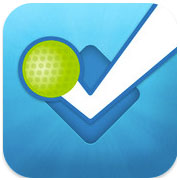 Mobile technologies may tend to focus on life's present and future, but Foursquare this week launched a feature that gives users new insight into the past. Specifically, the location-based social networking service on Thursday introduced the Foursquare Time Machine, a tool that allows users to retrace the steps of their past check-ins through a digital visualization.
The new Samsung-sponsored Time Machine tool starts with a user's first check-in, which is displayed as an illuminated colorful dot atop a black map. Next, more colorful laserlike lines zip across the map, highlighting every past check-in in a time-lapse view. Users can also slow down the animation and click through all their past check-ins one by one.
In addition to the animated visualization, users can access infographics detailing the spots they check in at most often, information about their friends, and connections and times in the past they've had heavy Foursquare usage. The infographics also show users what types of establishments they hit the most, such as nightlife spots or travel areas, and displays how the frequencies of those check-ins has changed from year to year.
Foursquare did not respond to our request for further details.
'Analytics of Your Life'
The Foursquare Time Machine is striking and interesting enough that it will lure many of its visitors to go on a digital walk down memory lane, said Lauren Formalarie, project manager at Say It Social.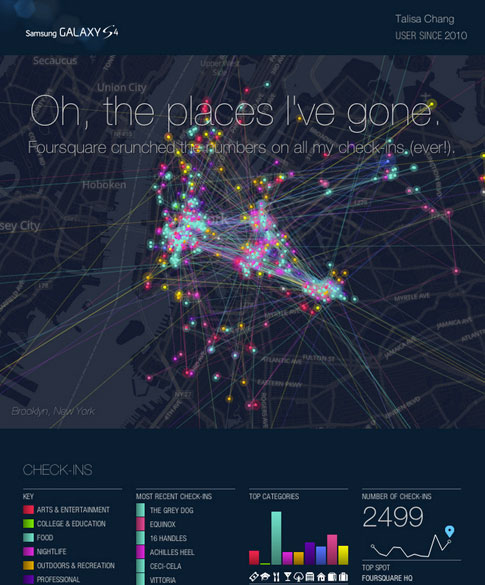 "At least in the beginning, people will be attracted to the new feature, especially the people who have been with Foursquare since the start and have large numbers of check-ins," she told the E-Commerce Times.
Indeed, those tried-and-true users may have felt the app was in a rut.
"It was time for Foursquare to come out with something new," Formalarie opined. "I think it may bring back some of the past advocates that may have slowed down on their check-ins and encourage them to do so more often with the opportunity to track their past now.
"Time Machine basically seems to be analytics of your life if you are an avid Foursquare user," she added.
Better Targeting
Meanwhile, if advertisers can gain access to that analytical information, it could help them better target Foursquare users, giving the app an edge over other social sites hoping to lure marketing dollars, Formalarie observed.
"If advertisers can match interests with what you're currently doing on a regular basis with the local places you have not yet been, there is a lot of opportunity for these businesses to target those people who already have the shared interests," she noted.
"Most social platforms are not adding on features without some form of monetization in mind, considering how fierce the competition is getting," she added.
'Clever But Mostly Useless'
For now, Samsung's sponsorship of the feature is probably the biggest opportunity for the Time Machine's monetization, said social media marketing strategist Paul Gillin.
While it might be fun for users, though, its impact isn't likely to be a lasting one, Gillin told the E-Commerce Times.
If the company is serious about developing features that are going to bring in additional revenue streams or attract new users, a feature like Time Machine isn't the way to go, he suggested.
"This is a clever but mostly useless advertising supplement," Gillin explained. "There's no way to interact with the animation. It plays and you're done.
"Foursquare's challenge continues to be to make its mobile app more useful," he added. "Creating an animation for the PC isn't the way to do that."