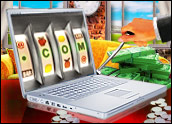 It looks as though the Southern District of New York has opened a new front in the war on Internet gambling.
Federal prosecutors have asked Citibank, Wells Fargo and two smaller banks to freeze funds in accounts belonging to two companies that process payouts on behalf of four offshore poker sites, including PokerStars.com and FullTiltPoker.com, according to the Poker Players Alliance, a DC-based advocacy group.
At first blush, this action may appear to be a move by the federal government to finally enforce the Unlawful Internet Gambling Enforcement Act of 2006, which makes it illegal for any bank or financial entity to process an American's credit card or bank payment to a gambling site. Up to now, the law hasn't been enforced, because rules governing its implementation were not established.
However, it "has nothing to do with that Act," John Pappas, executive director of the PPA, told the E-Commerce Times.
"The banks don't have to comply with it until December 1, 2009," he maintained. "We are scratching our heads about what this could mean."
'Oddly Timed'
Indeed, sentiment seems to have turned away from banning online gambling.
Rep. Barney Frank, D-Mass., recently introduced a bill that would repeal the Act, noted Leslie N. Bocskor, managing partner of Lenox Hill Partners, a consulting firm that works with online gambling interests. Bocskor is also president of Zakoora, an upcoming social networking site for poker and gambling enthusiasts.
Instead of banning online gambling, Frank's bill focuses more on regulating and taxing it, Bocskor told the E-Commerce Times.
"We have contended that Internet poker play is not unlawful," Pappas added. The move by federal prosecutors "seems to be oddly timed, as well as politically tone deaf right now. Congress is moving in a different direction on this issue."
Not Black and White
Arguments regarding the legality of online gambling and the enforcement of existing laws are not easy to parse.
From a legal standpoint, both the federal government and the states have the power to prohibit unlawful gambling, Christopher M. Collins, a partner with Vanderpool, Frostick & Nishanian, told the E-Commerce Times.
The bank accounts involved in the latest action are forfeit because "they constitute property involved in money-laundering transactions and illegal gambling offenses," according to letters sent by Assistant U.S. Attorney Arlo Devlin-Brown to the payments processors.
When it comes to the Internet, though, the lines between illegal activity and overreaching by the long arm of the law are often blurred.
Through advanced electronic surveillance methods, it is becoming easier for law enforcement officials to track and seize the funds used for illegal gambling, Collins said.
"Similar to the efforts used to regulate online pornography, the electronic enforcement methods are catching up with the current promoters of these illegal activities," he noted.
More Than a War of Words
Other thorny issues include the extraterritorial impact of U.S. laws and the enforcement of foreign laws against U.S. nationals while acting within the U.S, Collins continued. "While it may be difficult to determine the physical location of individuals operating through the Internet, that can be done. So, if a U.S. citizen in Bethesda, Maryland, logs onto a Bermuda-located server offering illegal gambling, that U.S. citizen would be said to violate U.S. law, and the law could be enforced against them. On the other hand, if that same person took their laptop to Mexico and logged onto the same Web site, the U.S. law enforcement would lack jurisdiction."
The larger question revolves around the federal and state governments' rights to "interfere" with electronic commerce, according to Collins.
"This may sound like a simple battle of semantics," he said. "However, once the legislative arm of government has determined that an activity is illegal and authorizes the enforcement of such law, then that activity may be halted through Constitutionally appropriate means. That includes e-commerce or Internet usage."