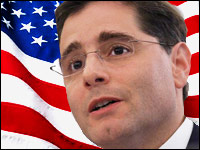 FCC Chairman Julius Genachowski has laid out a proposal that establishes the agency's authority to regulate Internet broadband providers much as it does telecom service companies. The FCC has always claimed to have this authority — but it was not put to the test until Comcast challenged an order by the FCC to change its network management practices.
However, the U.S. Court of Appeals for the District of Columbia recently ruled in that case that the FCC did not adequately prove it had the authority to order Comcast to make such changes. It was a significant ruling that many feared — or as the case, may be, hoped — would strike a fatal blow to Net neutrality.
Now, the FCC is taking a different tack. Genachowski has said that the existing law allows the FCC to apply a "narrowly tailored broadband framework" to regulate Internet traffic.
To do this, Genachowski is proposing a two-step process: The FCC will change the classification of the transmission of broadband from its previous status of "information service" to that of "telecom service." Then it will apply a policy of forbearance — the narrowly tailored approach to which the chairman referred — to keep the agency's regulatory touch as light as possible.
Third Way
The FCC is claiming this authority under Title 2 of the Communications Act, Aparna Sridhar, policy counsel for Free Press, told the E-Commerce Times.
"It is proposing to take just the transmission component of broadband Internet access and classify just that component as a Title 2 telecom service," she explained. "Then, using forbearance provisions of the law, the FCC will apply select portions of Title 2 to that component."
"Forbearance" is a limited use of rules in certain prescribed circumstances. In an earlier interview, Sridhar cited the hypothetical example of a carrier being told by the FCC it only had to comply with rules one through five but could disregard rules five through 25.
In this case, the FCC is only going to apply rules 201, 202, 208, 222, 254 and 255, she said. Three of these provisions deal with unjust and unreasonable practices — they are, in other words, consumer protections.
One deals with privacy and two establish equal access to rural, disabled and low income residents.
This is a good start, Sridhar concluded, but it remains to be seen how the plan will be executed.
Stumbling Blocks
Before it can be carried out, however, this proposal will have to survive some inevitable legal and political challenges. Congressional Republicans have questioned whether the FCC has the authority to reclassify "broadband." The FCC appears to be trying for a middle road by only addressing its transmission — a so-called third way to approach classification, as the chairman characterized it.
Beyond the immediate political and telecom industry uproars, challenges will appear at almost every stage of the process. The FCC has said there will be a comment period, after which it will issue its rules.
"At that point, you can bet your life there will be a legal suit filed, if not before," Jonathan L. Kramer, founder and principal attorney of Kramer Telecom Law Firm, told the E-Commerce Times.
The likely grounds for legal action include the assertion that the FCC does not have the authority to carry out its plan, he speculated.
"It worked once and will clearly be the cornerstone of the next challenge," said Kramer. "Right now, we are in a death struggle between those who regulate broadband and those who want to avoid regulation. So, until there is a clear survivor, this fight — which is worth billions of dollars — will go on."