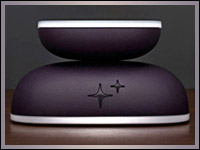 Fanhattan unveiled its new Fan TV set-top system at D11 on Thursday. It aims to streamline the television and digital entertainment experience by integrating several media platforms into a single streaming box.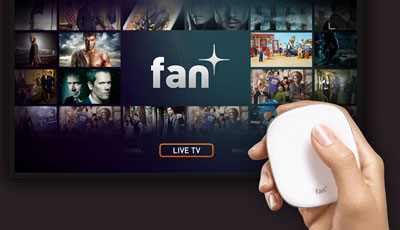 Fan TV is designed to solve three big consumer complaints about the state of TV: 1) It eliminates the clutter of multiple hardware units; 2) It makes it easier to access programming across platforms; and 3) It simplifies the remote control.
The small box Fan TV box — designed by Yves Behar, who has worked on innovative products such as SodaStream and Jawbone — integrates several entertainment platforms. A buttonless touch remote allows users to swipe through an onscreen interface where they can pick and choose from live TV, on-demand, DVR and streaming service content.
Fanhattan envisions use of the system beyond the living room — extending Fan TV to the Web and iOS devices. The company did not mention compatibility with Android.
Execs speaking at D11 announced Fan TV was "coming soon" but did not provide a release date or pricing.
Fanhattan did not respond to our request for further details.
Tough Market to Crack
Fanhattan is one of several companies that recently have proclaimed the TV industry needs a refresh, and its offerings are compelling, said Peter Koeppel, founder and president of Koeppel Direct. That doesn't always translate into an easy sell, however.
"They seem to be offering a breakthrough experience for the TV viewer, similar to what Apple has offered consumers for years now with their products," he told the E-Commerce Times. "If they can get the device into the hands of consumers, it has the potential to make a significant impact on the market. However, that will not be an easy task."
That's largely because it would be a three-step sale in a market where consumers are already grumbling about extra fees, said GigaOM Pro analyst Alfred Poor.
"The idea of being able to access programming from one source is very appealing," he told the E-Commerce Times, "but that's a tall mountain to climb. There is a three-step sale involved, because you have to sell it to a cable company, then the cable company has to sell it to the customer, and then the customer has to figure out how to use it and integrate it."
Fanhattan wanted to get rid of a cumbersome remote, but without buttons, customers can't use the remote to input channel numbers, and they must use an onscreen keyboard, computer or an iOS device to search for specific content, limiting the number of people that might want the product, Poor surmised.
In addition, Fanhattan is missing out on personal recommendations — one of the elements that make services like Netflix so successful, he added.
"Netflix is great at looking at data and helping subscribers find content they actually want to see, but it doesn't appear that Fanhattan is doing that," said Poor. "That makes them very vulnerable to some of the big data players already out there and those that could enter the scene."
Industry Changes Coming Soon
Whether Fan TV succeeds or not, it's clear that the type of service Fanhattan is providing will be a part of the TV landscape in the future, said Koeppel.
"This is a wake-up call for the TV industry," he noted. "If they don't begin to incorporate some of the features and benefits of this technology into their systems, they could put themselves at a competitive disadvantage in the marketplace."
If nothing else, Fan TV could be used as a model for future innovations that truly make the entire digital entertainment process seamless, suggested Poor.
"We've seen websites and network media players that are giving access to all different types of services, so it looks like Fan TV is an emerging product that is combining all those entertainment functions," he observed. "One of the cool things about technology is that you get to build on what's been built before, so presumably we're going to see devices that build off this in the future and turn out to be a much better product. This is an incremental step in a challenging market."