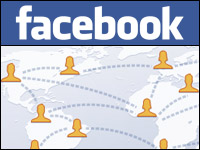 Facebook recently started running ads on Zynga's website, one of several moves the social network has made recently to expand its advertising reach.
Some Zynga users now see Facebook's Sponsored Stories ads, which display certain brands or businesses that those users' Facebook friends have "liked." Users log into Zynga with their Facebook accounts, so the ads can be targeted based on the likes of their Facebook profiles and the information they share on the site.
The ads on Zynga mark the first time Facebook is distributing ads outside of its own website, although it's not the first sign of partnership between the two companies. Some of Zynga's most popular games are ones played on Facebook, such as "FarmVille." In the gaming site's IPO documents from about a year ago, the company mentioned that Facebook was critical to its success and that it might show Facebook ads on its site as part of a revenue-sharing deal.
Expanding Reach
A deal with Zynga to expand Facebook's online advertising presence could be a serious revenue driver for the social network, B. Thomas Varghese, CEO and founder of eBizUniverse, told the E-Commerce Times.
"The potential is huge here," he said. "It's similar to what Google has successfully used for years with their Adsense ad platform. In Adsense, Google pays a cut to anyone who's willing to open up their website for Google Ads, and this has been a great success. Pretty much the entire Web is now dominated with the ads from Adsense."
If Facebook could do something similar, said Varghese, the possibilities are endless, since the social network already has users with login credentials. If a website let a user log in with their Facebook information, advertisers could then serve highly targeted ads to those users.
"While the terms of the deal with Zynga aren't available, it's a given that there is some sort of revenue sharing involved," said Varghese. "If Facebook is able to execute this with other vendors, it opens up an unlimited amount of websites that Facebook could use to display their ads."
Pleasing Investors
The new policy with Zynga is probably part of a larger strategy on Facebook's part to appease investors, Nipa Shah, president of Krave Ten, told the E-Commerce Times.
The company went public in a high-profile IPO in May. Throughout the process, investors questioned whether Facebook could attract new users and build new revenue sources. The stock is currently trading higher than it did in the first weeks following its public debut, although investor pressure remains.
"This may be the first of many strategies that Facebook is perhaps planning to unveil to make its investors happy," she said.
A partnership with Zynga is a sign that Facebook is ready to make some significant changes to the way it does business, said Varghese, and that it has the potential to benefit from those moves.
"This is a bold move from Facebook to demonstrate to investors that they're stepping this game up," he said. "I think this is definitely on the path to success."
Neither Facebook nor Zynga responded to our requests for comment.