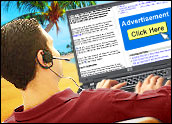 Google is poised to climb past Facebook and be this year's top earner in display ad revenue, according to new research from eMarketer.
Google is expected to earn US$2.31 billion in display ad revenue this year, a 38.5 percent jump from last year, just ahead of Facebook's expected $2.16 billion in earnings, up 24.4 percent from a year ago.
eMarketer predicts the overall display ad market to grow 21.5 percent on the year, driven partly by increased spending on digital video display advertising.
Faster Than Predicted
Earlier in the year, eMarketer had predicted that Facebook would remain atop the leader board in display ad revenue. Since then, though, the research firm said that Google's deep platform including ads on YouTube and AdMob has helped it remain strong while Facebook's earnings haven't been as high as expected.
Still, said eMarketer, while the two may be vying for the top spot, neither is struggling in the display ad market. Together, Facebook and Google will make up nearly 30 percent of total display ad revenues on the year, with Google taking 15.4 percent and Facebook 14.4.
The next highest earner, Yahoo, represents 9.3 percent of total display ad revenue, a drop from 2010, when it still topped Google and Facebook. Microsoft and AOL both take less than 5 percent of the total. While Facebook and Google are only expected to raise their display ad revenue, eMarketer predicted Yahoo, Microsoft and AOL will suffer further losses once the pair's market presence increases.
Google Dominance
Part of Google's strength in display ad revenue this year was advertisers' tendency to spend more on digital video advertising, which Google can support with its YouTube platform.
It's also because the search giant makes use of the platforms it has, where Facebook can't always figure out how to help advertisers target the right consumers — despite being the more personalized of the two, said Alan Moore, Internet marketing consultant.
"Everyone loved Facebook and the assumed the super-targeting you could do would turn into an amazing opportunity for small and medium businesses," Moore told the E-Commerce Times. "The problem is consumers do not go onto Facebook to interact with ads and tune out the tiny ads that do appear. With their new format consisting of smaller ads sizes and more ads on the page, the clutter gets even worse."
Google, on the other hand, is more suited to the display that advertisers believe can better target potential consumers, said Moore.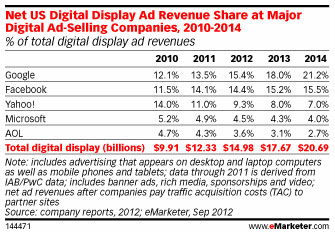 "Google's display network consists of the traditional banners which are all much larger than those on Facebook, giving business owners greater bang for their branding buck and the results soon follow," he said.
Beyond Display
Where both companies — and any other hoping to compete in the digital advertising scene going forward — really need to spark ad earnings, though, is in the mobile space, saidGordon Owens, digital marketing professional at GO Digital WSI.
"There will still be billions of dollars in display ad revenue in the coming years but forward-thinking companies should be considering how to capture mobile customers," he told the E-Commerce Times.
Facebook admitted during its IPO process that it was struggling to monetize on the mobile platform, but has since upped its mobile efforts with new sponsored ads on its smartphone apps. If it wants to remain relevant in the future, it needs to keep those initiatives alive, said Owens.
"We all carry around these incredibly powerful devices in our pockets and companies are just beginning to figure out how to leverage that technology for creating exciting user engagement," he said. "Most companies that have a 'good' mobile strategy are still applying Web tactics to mobile and not thinking out of the box."