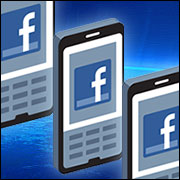 After an arguably crummy 2012 for Facebook, it is kicking off 2013 on a positive note: J.P. Morgan raised its price target on the social network giant from US$29 to $35 at the start of the year, citing the progress the company has made with its mobile advertising business unit.
Morgan research analyst Doug Anmuth said positive advertiser feedback on Facebook's mobile and news feed ads, along with its ability to leverage third-party data through its Facebook Exchange and Custom Audiences "can drive improvements in Desktop yield."
J.P. Morgan did not respond to our request for further details.
Significant Movement
It is clear that Facebook is gaining traction with its mobile advertising — once deemed to be a gaping hole in its functionality.
Facebook made zero dollars in 2011 on mobile advertising, noted Eric Steiman, a Covestor model manager. However, it posted $250 million in the third quarter of 2012.
"That is a huge move for any company," he told the E-Commerce Times. "They will continue to gain traction as more users flock to mobile devices for all their needs."
That quarter represented a turning point in Facebook's effort to prove its bona fides in mobile advertising, said Andreas Scherer, managing partner of Salto Partners.
Until that point, mobile had been a major source of uncertainty. Now, "companies such as Walmart are using Facebook as part of their mobile outreach," Scherer told the E-Commerce Times.
J.P. Morgan's upgrade came on the heels of eMarketer projecting Facebook's mobile ad revenue for 2013 to be $851 million, he pointed out.
"This is well below the market leader Google's $3.984 billion but ahead of everybody else," Scherer said. "Within a short period of time, Facebook was able to claim the No. 2 spot in mobile advertising."
The Naysayers Chime In
There is still plenty to be leery about when it comes to Facebook's stock and its mobile ad platform, though.
The SmartConsensus Rating for Facebook was Hold as of Jan. 2, 2013, Scherer said.
"In the end, Facebook is running an open experiment on how to make money of social networks, which includes the mobile dimension," he observed. "The expectations are high, and the margin for error is minimal."
Weighing All the Evidence
There is evidence both supporting and negating J.P. Morgan's take on Facebook — that is, "J.P. Morgan is both right and wrong," Kevin Sangsland, vice president of Airfoil, told the E-Commerce Times,
What the firm has gotten right about the Facebook mobile ad story is that mobile is huge and growing, he said. There are only a handful of trillion-dollar industries on the planet.
"The difference is mobile is a $1.2 trillion dollar global industry that is still growing fast. The movement toward mobile form factors is the most transformative trend shaping the marketer's landscape for the next half-decade," Sangsland explained.
The Missing Piece
However, it is important to look at what J.P. Morgan is missing in its analysis as well — namely, that content marketing and public relations initiatives will dominate mobile and take share from mobile ads, Sangsland said.
The customization needs of mobile ads cannot be overstated, he added.
"Marketing on mobile devices needs to be timely, personal and contextually relevant — people expect their phone to be customized to who they are — in order to work," noted Sangsland.
"Facebook's long-term problem is an industry problem. Unless advertising strategies at the mobile user experience level change radically, marketers will find that advertising will perform poorly on mobile channels and invest elsewhere," he maintained.
Facebook will benefit from its mobile ad momentum only in the short term, Sangsland predicted.
"It won't be a major contributor long-term," he contended, "and depending on their revenue strategy, could be a big problem for them if they don't have some other solution for mobile — an area [where] they've already been labeled somewhat of a laggard."