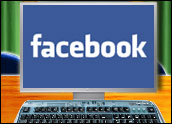 Facebook's makeover is now official. The social networking site has rolled out its revamped page with a so-called Social Graph for users to better connect with friends and new contacts and an improved Publisher that now sits on the top of the home page.
Upgrades to that feature make it easier to add changes to status, links, photos, pushing more content into the stream.
The biggest change, though, is the addition of real-time update functionality. Facebook now allows members' posts to be streamed in real time not only on their own home pages, called "profiles," but also on their friends' home pages.
Other changes give users more control over what they see. They can, for instance, create their own filters using Friend Lists. They can also filter by applications, such as Photos. Facebook's inquiry "What are you doing right now?" has been changed to "What's on your mind?" Finally, Facebook has eliminated the 5,000-friend limit; you can now sign up an unlimited number of friends.
Taken separately, each of these features could appear to be one-off enhancements that such sites routinely make to stay on top of new trends in technology. Taken as a whole, though, they point to a new direction by Facebook — an effort to get a jump on new usage trends, as well as become more appealing to business users.
Competing With Twitter
The immediate catalyst for the changes is the growing competition with Twitter. Facebook has undoubtedly noticed the traffic the micro blogging site has been attracting, perhaps with a degree of worry.
Such concern would be justified, David Erickson, director of e-strategy forTunheim Partners, told the E-Commerce Times.
"There are real-time interactions, real-time conversations going on Twitter that were not happening on Facebook," he said. The popularity of Twitter was clearly a part of Facebook's decision to change its home page and other features.
Business-Friendly Features
Facebook also changed its business-oriented features — a move that may well give it the boost it needs to break Twitter's momentum.
For instance, businesses with fan pages can now have status updates, a feature once limited to personal profiles. "That alone will make Facebook much more valuable for businesses — offering that ability to their business users," Erickson said.
The new changes make Facebook much more attractive to marketers — especially those with limited resources, observed Dave Anolik, chief creative officer of Quango.
Marketers don't have to waste time using Twitter anymore, he said.
"In fact, they would be stupid to waste their clients' money on Twitter," he told the E-Commerce Times. "Marketers can push pictures into a friend feed — and we all know how images are more powerful than words."
New design changes — with ad placement more prominent and competing less with unrelated content — are also friendlier to marketers, added Anolik.
The Downside
Some of Facebook's changes don't work to the advantage of marketers or businesses, however, Anolik pointed out.
"With better filtering abilities, users will more likely start to understand that they can turn off some feeds," he said. "Simply put, your fan page feed might get blocked. This is likely to be a spam filter forsocial networking users that have not taken the leap to just leave a fan page or group. It's more important than ever before to create something that's relevant and speaks to your audience."
Also, unless and until it develops a more fully functional and integrated dashboard, the new Facebook is still not an ideal business tool, in Anolik's view.
Then there is big picture. "Users considered Facebook a safe haven from the MySpace-like commercialization of social media," he recalled. "This is a perfect time for someone else to create something even cooler. Facebook could very well be an at-risk medium with great, albeit short-term, results."