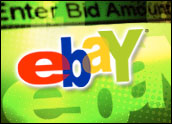 Executives at flagging online auction site eBay outlined a plan Wednesday to revive the once-mighty Internet company's fortunes.
Chief Executive John Donahoe told Wall Street analysts that the company's greatest growth potential lies in its online payment unit, PayPal. eBay will also institute changes to its Marketplace business, the CEO said.
Its Marketplaces business should see US$5 billion to $7 billion in revenue, driven by search, catalog and platform improvements, according to the company. That compares with 2008's $5.6 billion.The company also accentuated its fast-growing PayPal unit, saying it expects that business to double by 2011.
The revival plan was greeted with skepticism by financial analysts.
"They didn't say anything that they hadn't really said before about the steps they were undertaking in the business," said Derek Brown, an equity analyst with Cantor Fitzgerald who has had a sell rating on eBay shares for the last five years. "They put some incremental color about some of the things they stated in the past."
eBay's stock was up 2.92 percent to $11.97 per share in mid-day trading on Thursday.
Management Finally Admits Problems
Despite a lack of detail in the information provided Wednesday, the company appears to be moving in the right direction, according to Brown.
"After several years of what we would refer to as neglect, eBay's management seems to be moving very aggressively to address challenges in its core market franchise," Brown told the E-Commerce Times. "However, it's not clear whether their efforts have taken root or are even the proper responses."
The company still has a great deal of work to do before it can instill confidence on Wall Street again. eBay needs to create a shopping environment that will once again be a magnet for buyers and establish a selling platform that will bring merchants back to eBay, he said."As a result, we think management's expectation for a healthy rebound in 2011 seems premature," Brown noted.
Years of Neglect
In the years since its heyday as a high-flying Internet company, a number of problems have plagued eBay, with seemingly little response from eBay management.
The economics of selling on eBay no longer make as much sense as they once did because it's much easier for merchants to set up their own online commerce sites than it was when eBay first launched, said Colin Gillis, director of research at TheStreet.com.
Also, the notion of people aggressively bidding for items on eBay is "somewhat tapped out," Gillis told the E-Commerce Times.
The online auction process on eBay has grown in complexity over the years as well, and eBay has made it more difficult for users to sell items online as a result of poorly planned policy and process changes, Cantor's Brown said.
eBay's online auction model is also under attack from other Internet merchants such as Amazon.com, Gillis said.
PayPal Factor
Donahoe told analysts Wednesday that PayPal will be the largest growth engine at eBay for years to come.
The company announced a new deal with BlackBerry maker Research In Motion wherein PayPal will be the exclusive payment system for a fast-growing segment of applications on the popular smartphones.
PayPal's platform will also be opened up to developers, making it easier for them to create applications that eBay hopes will drive wider adoption of the service.
"The key thing on eBay is the PayPal asset," TheStreet.com's Gillis said. "One of the keys behind PayPal and one of the major benefits is it speeds the checkout process. You don't have to re-enter all your data when you go to an e-commerce site."
At the same time, as PayPal grows and does business with larger and larger e-commerce sites and online merchants, those merchants will want to capture more personal user data.
For example, if you buy something from Overstock.com and use PayPal to pay, Overstock will still want you to register on its site and key in all your personal information.
"That sort of negates the main utility of PayPal," Gillis said.