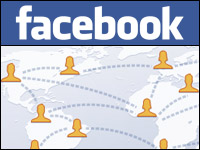 Facebook has changed its payment system, doing away with its Credits program as well as allowing app developers to offer subscription billing.
Facebook currently sells in-app purchases for Credits — digital tokens that allowed users to buy virtual goods within games or apps. But the company found that Credits didn't catch on as a Facebook currency, and many developers introduced their own virtual coinage, such as Farm Cash in Zynga's "FarmVille" game. To streamline the monetization process across the platform, Facebook will support local currencies rather than just Credits.
Facebook will also allow developers to charge users for monthly subscriptions. KIXEYE and Zynga are already testing the subscription service. KIXEYE is offering a US$9.95-per-month deal on its "Backyard Monsters" game, with special offers for subscribers. The services will be available to everyone in July.
The potential for subscription services goes beyond games, Facebook added. Music or video streaming services, for instance, could charge for access to digital content. The subscription platform could also be used as a platform for charities to sign up users to donate a monthly fee to help sponsor the organization.
Streamlining the Process
The new system of accepting local currencies will smooth the monetization process for developers and users, said Michael Kirkland, a Facebook spokesperson.
"We've been on Credits since 2009, and it was pretty clear that there was a need for a currency that could be used across the entire program," he told the E-Commerce Times. "As it evolved, we've seen that developers feel that a virtual currency is an important part of the experience that they offer users. By stripping out that extra layer in the process, we're really making it easier."
The subscription plan makes Facebook's economy align closer with those of some of its competitors in the app space. Google and Apple both have app subscription platforms in their app stores, and both allow transactions in local currencies.
Helping Out Bottom Line
Besides a smoother development and purchasing process for developers and users, Facebook's new system could help out its bottom line. The social network keeps 30 to 70 percent of the revenue share from in-app purchases. Since it filed its IPO in May, the social network has faced investor questions about sustaining profit in the relatively new social media space.
"Nearly every announcement that Facebook has made since the offering has tried to paint a picture of a company that has a good grip on its advertising services, mobile strategies, app development and now the fledgling F-commerce stream," Renay San Miguel, chief content officer for Splash Media, told the E-Commerce Times. "It's been all about regaining momentum lost because of the IPO."
Any move that can strengthen Facebook's relationship with developers, keep Facebook users on the site longer and add the possibility of an increased revenue stream is a step closer to the site feeling less heat from the frustrated investors, said San Miguel.
"This move clearly plays into Facebook's strengths — its massive global user base and the time each of those users usually spend on the network with each visit," he said. "Those are the qualities that would be most appealing to third-party app developers who now have a Facebook App Center to show off their work."