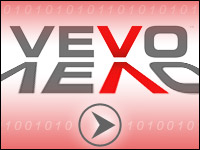 Facebook and Google are interested in acquiring a stake in the music video website Vevo, according to the New York Post, which cited unnamed sources.
Up for grabs is an equity stake in the site, as well as an advertising deal. Vevo has been valued at approximately US$1 billion, according to the Post.
A Gratifying Validation
This tug of war over Vevo must be validating to the site. It launched in 2009, backed by the major names in the industry, including Universal Music Group, Sony Music Entertainment, and EMI Music, but with an unproven business model of creating revenue opportunities through advertising — which had not been done on a wide scale for video at that point.
Some two-and-a-half years after its launch, it is among the top online video destinations, as ranked by comScore, with 49.5 million unique visitors for the month of April. Visitors to the site spent 57.9 minutes each there.
Another sign of its growth, according to comScore: Vevo was the top YouTube partner channel for the month, with 48.3 million viewers. The next most popular site was Warner Music, with 28.6 million viewers.
Google's Role
Google is important to Vevo apart from the fact that it was one of the site's launch partners, along with the music studios. Google, via YouTube, provided the video-streaming technology to support the site, along with a YouTube channel.
However, this distribution deal with YouTube is scheduled to expire at the end of the year, presenting the site with a quandary — albeit a welcome one: Which well-heeled suitor should it accept?
YouTube offers huge exposure, of course. However, Vevo reportedly experienced a huge boost in its traffic when it integrated with Facebook earlier this year, allowing users to create playlists and share videos with friends via the feed.
Who Benefits
Perhaps a more telling question is, which party would benefit the most from a Vevo stake — Google or Facebook? The talks are reportedly being conducted at the highest level, that is with CEO Mark Zuckerberg negotiating on behalf of Facebook and CEO Larry Page for Google.
Right now, Facebook has a surplus of cash at its disposal thanks to its IPO, noted Rob Enderle, principal analyst at the Enderle Group.
Also, Vevo is closer to Facebook's primary mission, he said.
"Facebook should prevail unless CEO Mark Zuckerberg is distracted," Enderle told the E-Commerce Times, but "there is a lot to distract him at the moment," he added — so who knows?