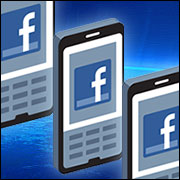 Facebook delivered a double whammy with its third-quarter earnings report: It came in slightly above Wall Street analysts' expectations, and it illustrated that, yes, it can deliver on its mobile promise.
Although it recorded a net loss of $59 million, revenue reached $1.26 billion, a 32 percent year-over-year increase. Best of all, though, was its report that about 14 percent of its advertising revenue came from ads for mobile users.
Other notable metrics: Facebook posted an increase of 26 percent year-over-year for monthly active users, which reached 1.01 billion as of Sept. 30. Its daily active users numbered 584 million, an increase of 28 percent year-over-year. Also, its mobile MAUs reached 604 million, an increase of 61 percent year-over-year.
It is a better report than many in the industry expected, Andreas Scherer, managing partner with Salto Partners, told the E-Commerce Times.
Even its net loss can be justified as it was due to share-based compensation costs and related tax roll expenses.
"Otherwise, the company posted solid operating margins," Scherer said.
Celebrating Mobile
On the earnings call, CEO Mark Zuckerberg highlighted Facebook's major breakthroughs of the past quarter — many of which had to do with mobile. He pointed to the mobile MAUs, for instance, and the ad revenue related to the company's efforts in this area, which clocked in at $153 million.
Zuckberberg earned his bragging rights, Scherer said. Besides positive ad revenue, "Zuckerberg made mobile a strong priority for the company. Facebook completed the rebuild of its app for iOS. It improved on the platform for mobile developers by launching new software development kits for iOS and Android, as well as a deeper integration into iOS 6.0."
Facebook needs to maintain its momentum, he said. It's gaining traction with its mobile operations, but the company is still playing catch-up.
"eMarketer estimated the size of mobile at revenue at $2.61 billion this year," noted Scherer. "$153 million mobile ad revenue is just a fraction of the total market opportunity. Investors will keep watching how aggressively Facebook is able to ramp up its mobile business."
Overall Ad Revenue
There are other things to like about Facebook's earnings than its mobile report.
There's the overall average price per ad placement, which rose 7 percent in Q3 compared with the year-earlier quarter, noted Barry Randall, who runs the Crabtree Technology model on Covestor.
"This is important, because it shows that Facebook's advertising revenue growth isn't coming solely from new members, but also from new and more effective forms of advertising, like ads appearing in Facebook's Newsfeed," he pointed out.
And More Challenges
One area where Facebook could have done better was its payment revenue, Randall said, which was below expectations, due primarily to the underperformance of gaming partner Zynga.
"Overall, payments to Facebook from Zynga fell by 20 percent year-over-year, and represented 43 percent of payments revenue, down from 51 percent in the second quarter," he said. "It's not clear what Facebook plans to do to replace Zynga's rapidly declining contribution in the short run.
A Mix of Good and Bad
Taken as a whole, Facebook's earnings report was a mixed bag of positive and negative factors, Randall said.
On one hand, he said, the company now has more than 1 billion users — that's good. However, about 60 percent of them are regularly accessing the service via mobile phones, which is bad. Mobile ads are cheaper, and so far not as compelling.
Also, while Facebook has shown it can generate revenue from mobile users — and that's very good! — most of the mobile users it will attract will be using the service via a non-smartphone, Randall observed, making non-advertising sources of revenue more important.