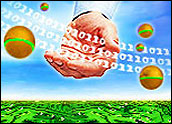 Compete has agreed to settle Federal Trade Commission charges that it used its Web-tracking software to collect personal data without disclosing the extent of its information-gathering activities, and failed to honor promises it made to protect the personal data it collected.
Under the settlement, Compete must obtain consumers' express consent before collecting any data. It also must delete or anonymize the consumer data it already has collected. Finally, Compete will have to provide directions to consumers for uninstalling its software, and implement a comprehensive information security program with independent third-party audits every two years for 20 years.
Compete and the FTC did not respond to our requests for further details.
'Join Now'
Compete used several different methods to get consumers to download its tracking software, the FTC said. One way was to urge them to join a "Consumer Input Panel," promising they could win rewards while sharing opinions about products and services.
Once installed, the tracking component operated in the background, automatically collecting information about consumers' online activity, including usernames, passwords and search terms, along with sensitive information such as credit card and financial account information, security codes and expiration dates, and Social Security Numbers, according to the FTC.
Compete promised that anyone who installed its Compete Toolbar could have instant access to data about the websites they visited, the FTC alleged. It also assured consumers that their personal information would be removed from the data it collected, but it did not follow through on that promise.
The FTC also charged that Compete licensed its Web-tracking software to other companies, such as Upromise, which settled similar FTC charges earlier this year.
Tough Terms
The FTC settlement did not mention a financial penalty, but Klemchuk Kubasta attorney Casey Griffith noted that Google settled a similar case with the agency for $20 million, "which was a drop in the bucket for a company of Google's size."
If there are financial penalties for Compete, they probably pale in comparison to the other terms of the agreement, Griffith told the E-Commerce Times. "For a company whose business model is to collect information from consumers and sell it, being required to get consumers' express permission is very onerous."
The other terms no doubt are equally from Compete's perspective, Griffith added. "Having to submit to a third-party audit for the next 20 years is onerous."
A Crackdown
The FTC is increasingly pursuing companies for "unfair and deceptive trade practices, noted Marilyn Prosch, an associate professor at Arizona State's W.P. Carey School of Business.
"These are not new rules, but the trend is to crack down on companies that surreptitiously collect personal information," she told the E-Commerce Times.
In general, businesses that respect consumers' privacy without the prodding of the government will go further to gain consumers' respect, Prosch observed. However, while "privacy by default is an expectation in most other large countries, we often need to be reminded here in the U.S."
A Warning Sign
Compete's terms will likely serve as a warning to other companies that may be guilty of similar practices.
"It is a lesson for companies to be careful in handling consumers' information," said Klemchuk Kubasta's Griffith.
It also is a reminder of how easy it is for a company to become the focus of negative publicity, he added. "No company wants to be in the news because it has been accused of privacy violations."