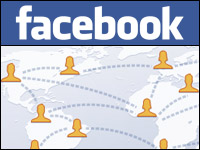 Facebook is integrating sponsored results into its search function as part of the social network's ongoing effort to increase advertising revenue.
The ads appear when a user looks for a person, place, app or other item through Facebook's search bar. Advertisers can choose which search terms to target with their ads. They pop up ahead of the other search results, in a black-outlined section with a gray bar marked "Sponsored." Users can click on a small "x" to close the ads and only view their organic search results.
The company has been testing the initiative with sites such as Match.com and Zynga, and it's now preparing to open up the platform to additional advertisers. Facebook announced the change on its developer blog, saying it's making an API available for developers to create sponsored search results. The site said it is a way for marketers to increase brand awareness.
The company did not respond to our request for comment.
Direct Hit for Advertisers
Facebook's new search ads mirror those of one of its major Web rivals, Google. The two sites have the advantage of using their search functions to attract all users rather than having to rely on more invasive or less direct ads, said Jennifer Sheahan, founder of FBAdsLAB.
"I love this new ad format because it is very specific, non-invasive and appears right when a Facebook user is searching for something," she told the E-Commerce Times. "Other forms of Facebook advertising are contextual and appear on pages of people most likely to want your service or product. With contextual ads, they are not actively searching for you. Instead, you just happen to be in the right place at the right time.'
The more contextual ads are sometimes a turn-off and actually work against advertisers, said Sheahan, making the virtually integrated search results a less invasive and appealing option for marketers.
In addition, advertisers also could potentially have a greater amount of control over which customers see those sponsored ads than they would on Google, since they can decide which search terms make their ads appear. So, a popular beverage company could have its brand name pop up when a user searched for its rival.
"Sponsored results appearing in the search results is far more direct," said Sheahan. "I suspect this will lead to greater click-throughs, and more effective promotions for larger advertisers. For example, if you search for 'Coca-Cola' on Facebook, 'Pepsi' could appear right at the top of the list — above Coca-Cola."
Pushing for Ad Growth
Facebook has recently been rolling out further advertising initiatives to appease investors worried that despite the site's popularity, it's having trouble growing its income.
"For 2012, we expect the company will generate $100 million of mostly new advertising revenue," Brian Wieser, an analyst at Pivotal Research Group, told the E-Commerce Times. "The company is already well on track towards this goal."
As of now, however, the ads are only available in desktop search, not mobile — the sector where investors say Facebook needs to focus the most to keep up with the growing smartphone and tablet use from Facebook users.
"Growth in advertising for any medium is usually dependent upon distinct segments of advertisers who can benefit from advertising on the mobile medium. Additional growth will inevitably occur from other advertisers as Facebook was expected to continually improve its ad sales products," said Wieser.