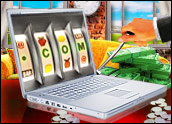 Facebook on Tuesday launched "Bingo & Slots Friendzy" — a bingo game that uses real money — exclusively for its members in the UK. As with all of its apps, Facebook is taking 30 percent of the revenue.
Facebook has its fingers in numerous revenue-generating pies. To name a few examples, it is developing new ad products and moving further into social shopping. It is rumored to be developing a "Want" button. Of all these, however, social gambling could prove to be the most lucrative — especially if it catches on in markets beyond the UK — the U.S. being the most obvious destination.
Slow but Steady Push to Legal Status
Right now, online gaming is illegal in most U.S. states, but gaming attorney Lawrence Walters at Walters Law Group believes this will have changed within five years.
"Already we have seen Nevada and Delaware pass legislation, and another 20 states are looking at the legalization of online gambling and ticket sales in some form," he told the E-Commerce Times. "Online gaming is slowly being accepted as a legal and social activity."
The social networking trend has had much to do with this acceptance, Walters added, pointing to such games as Zynga Poker "which gave people a taste of how legal online gaming could work in the social environment."
Such a belief may be hard to fathom, given the number of criminal and civil actions targeting online U.S. players, not to mention the takedown and prosecution of the big three poker sites by the federal government last year.
However, online gambling is a nuanced issue, said Walters. "It needs to be legal, and it needs to have permits. Just because it is online doesn't mean it can skip the permitting stage."
Indeed, Facebook appears to have picked the UK to launch its new online game precisely because the regulatory environment there is so clear.
No Riches Here
Still, even if online gambling eventually does take the U.S. by storm, it's doubtful that Facebook will be the provider leading the vanguard.
"This site will make Facebook some money — but it won't be a huge revenue stream for the company for a very simple reason," Larry Chiagouris, a professor of marketing at Pace University's Lubin School of Business, told the E-Commerce Times.
That reason is that people who know anything about gambling won't use the site, he said. "Facebook is keeping 30 percent — and every gambler knows that while the house keeps a certain percentage of the winnings, it is rarely as high as 30 percent."
People not accustomed to gambling, but who like social networks and social gaming, will flock to a Facebook gaming option, said Chiagouris.
Some of these people will leave once they do the math and move on to other sites, assuming they want to keep on gaming, he said. Some will drop out entirely, especially if they lose one too many games. Some will stay on Facebook for the social aspect — the ability to play with friends and other people on the site.
One thing Facebook did that was brilliant, suggested Chiagouris, was move into gaming by way of a simple and popular game such as bingo. "Everyone knows how to play it, making it an easy window into online gaming."