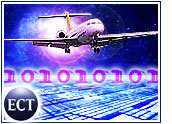 Online travel company Expedia (Nasdaq: EXPE) said Monday it is making its services available to French travelersthrough a joint venture with French national railroad company SNCF.
Expedia's airline, hotel, train and car reservation services will beavailable on SNCF's Web site, which Expedia says is the top travel site inFrance, reaching 10.2 percent of the country's online population. The site,Voyages-sncf.com, saw revenue of 91 million euros last year, and expects to record 167 million euros in revenue this year (approximately US$150 million).
"The Voyages-sncf.com site already receives a tremendous amount of trafficwith its current train bookings and editorial information offerings," saidExpedia senior vice president Simon Breakwell. "By addingvaluable flight, lodging, and car rental services, the joint venture willcreate a new competitor in the online travel industry."
SNCF owns 53 percent of the joint venture, while Expedia holds a 47 percentstake. The companies did not say how much money they would invest. Thetwo did say that they aim to have the revamped Web site up and running by theend of this year.
Continental Divides
Andy Greenman, a senior analyst for Yankee Group in London, said the ventureis "definitely a good move in terms of Expedia raising its profile" inEurope, as SNCF runs one of the continent's most popular Web sites.
The European online travel market, however, is developing in a verydifferent way from the North American one, Greenman told the E-CommerceTimes. While European dot-com travel companies are "a couple of yearsbehind" their U.S. counterparts, "you have a more balanced development ofplatforms beyond the PC."
Interactive television is proving to be a big base for European travel marketing, according to Greenman. Yankee predicts digital TV will surpass PC-basedInternet use among European home users by 2005.
Already, text service provider Teletext accounts for about 10percent of the UK's total sales of travel products, Greenman said. Eventually, companies will be able to provide "click-through" servicesallowing viewers of TV travel shows to click on Web sites providinginformation and services relating to the shows.
Ready for Takeoff
In any case, as in the United States, the online travel market is booming in Europe, andcompanies are moving to gain market share. Jupiter Media Metrix said thatbetween November and April, the number of Europeans using travel Web sitesrose by almost 4 million, and studieshave predicted the market will continue to grow.
Last month, UK online travel agency eBookers and online auctioneer QXL.comsaid they would promote each other's travelservices across Europe. Additionally, a group of European airlines is planning a travel Web site — dubbed Opodo — which they plan to launch in the UK, Germany and France.
Making Money
In the meantime, online travel companies remain among the few money earners in the e-commerce arena. In July, Expedia reported that revenue for the quarterended June 30th more than doubled froma year earlier, as a weak U.S. economy fueled demand for bargain travelservices.
Income before stock option expense and amortization of goodwill andintangibles totaled US$15 million, compared with a loss of $13.1 million, or30 cents, in the same period last year and above the 20 cents predicted byanalysts. The net loss narrowed to $4.4 million, or 9 cents per share, from$42.4 million, or 98 cents.
Expedia said all its business segments grew during the quarter, and itexpects the good times to continue in coming months. The company predictedincome before non-cash items will reach $10 million to $12 million in thecurrent quarter and $11 million to $13 million the year after that.
Changing Hands
Expedia is getting a new majorityshareholder later this year. In July, USA Networks agreed to purchase asmany as 37.5 million Expedia shares, including more than 33 million sharesand warrants held by Microsoft, Expedia's initial backer.
Microsoft will retain a 3 to 5 percent stake in Expedia, and will continueto use the company as its online travel channel through June 2005.