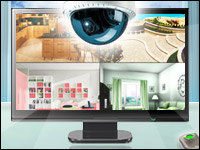 In an effort to catch up with their data-swamped online counterparts, brick-and-mortar retailers are turning to a new tool to help them better monitor shoppers and maximize sales: shoppers' cell phones.
Approaches include tracking shoppers as they move about the store using their phones' connection to the store's WiFi system and sensors that recognize returning customers' smartphones, according to a report in The New York Times. In other cases, stores use video cameras for similar purposes.
From a merchandising or marketing standpoint, the technology makes a great deal of sense. In one example described by The Times, for instance, video footage was used by a store to help determine how long men spend in the coat department and streamline the department accordingly to better fit their needs.
From customers' perspective, however, this new application has generated more than a little concern, causing some retailers to rethink its value. Nordstrom, for instance, reportedly abandoned a pilot project earlier this year after customers posted negative comments to the retailer's Facebook page.
Nordstrom did not respond to our request to comment for this story.
'The Best Outcome for the Customer'
Although privacy advocates are appalled by them, there is little doubt retailers can benefit from these tools, Hilding Anderson, SapientNitro's senior manager of marketing strategy and analytics, told the E-Commerce Times.
"These tools — when used judiciously — can help retailers optimize product selection and layout, while also offering the potential for a substantially better in-store experience for their customers," Anderson explained. "Ultimately, it is about leveraging data to create the best outcome for the customer and the retailer."
Indeed, retailers don't necessarily have to abandon such technologies if they see value in them, but they do have to disclose their use and explain why they are using them, said Erik Dochtermann, CEO of media agencyKD+E.
"If the retailer states that this tracking is being implemented to improve the shopping experience for the customer, to help develop products they find more desirable and to share what other customers like themselves find cool and trendy, then they are making the customer their ally and deepening the relationship," he told the E-Commerce Times.
"Retailers are in a position to turn 'they're spying on me' to 'they're trying to build a store just for me,'" Dochtermann added.
'Quid Pro Quid'
Retailers should also consider the 'quid pro quid' aspect of customer tracking, Hilmi Ozguc, CEO of shopping technology companySwirl, told the E-Commerce Times.
Swirl actually commissioned a study that found that 47 percent of women would willingly share their mobile phone location with a retailer in return for a US$5 credit, and 83 percent would do so for a $25 credit, Ozguc said.
"Shoppers are more likely to share personal information with retailers if they receive value in return, but they must retain control of how their personal information is shared," he noted.
Such caveats, though, will make the technologies' use less appealing to retailers — and more difficult. The fact is, using such tracking systems is a complex endeavor for a retailer, even without having to take privacy concerns into account.
'A Fancy Gimmick'
The only way to make the resulting data statistically stable and usable is to combine it with that of multiple stores over the course of multiple days, Dochtermann said.
"Unfortunately, this flattens out unique reactions and 'aha' moments," he added.
"Most retailers are overwhelmed with the influx of data already, so unless they can seamlessly integrate this latest tactic into their program and tie it directly to sales by unique customer ID," Dochtermann concluded, "it will just be a fancy gimmick."