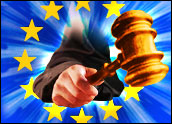 Google is facing pressure from the European Union to change the way it presents its search results or face antitrust charges.
The EU is concerned that Google is abusing its position as a search leader by promoting its own search services, such as its maps, weather or online shopping information, over another site that provides the same information, EU antitrust chief Joaquin Almunia told the Financial Times.
Last month, the two entities appeared close to resolving their differences, but Almunia said at the time that Google still needed to outline how it would change its search policies to avoid favoring itself over rivals. One such resolution could be to better label its services such as travel, shopping and weather in the same way it clearly marks its own advertisements, although that could still be considered favoring its own features, he said.
The U.S. Federal Trade Commission had been investigating Google for similar issues for almost two years, but it recently announced it would end the inquiry with no finding of antitrust violations. The company did agree to a change in some of its business practices regarding search, including removing restrictions on the use of its search advertising platform, but Google will not face harsh punishments or a fine from the FTC.
Tougher in Europe
Almunia acknowledged the FTC's recent position, but said the possibility of abuse was larger in Europe because of Google's greater presence in search there and also because of a higher potential for private lawsuits.
A tougher stance by the EU is relatively standard, said Michael Carrier, professor at Rutgers School of Law.
"Google escaped liability in the U.S. when the FTC decided not to challenge any activity related to search," he told the E-Commerce Times. "The European Commission has historically taken a harder line on abuse of dominance than the U.S. has on monopoly. As a result, it is possible that it would challenge Google's search practices even if the FTC did not."
The EU also took a harder look at Microsoft when it was facing antitrust charges, but the two cases are very different, especially in the U.S., noted Roman Tsibulevskiy, patent attorney at Goldstein Law Offices.
"Unlike Microsoft in the '90s, Google is a pretty ubiquitous, cool, hip, popular and well-liked company by an average U.S. user and Google is synonymous with looking something up on the Internet," he told the E-Commerce Times. "So I think that's part of the reason why the FTC was mild on Google, but in the EU, I am unsure if Google enjoys such popularity."
What to Do?
Google is well aware that, perhaps due to that popularity, it got off with a slap on the wrist from the FTC, said Carrier.
The company also understands, however, that the EU could be a different story. A change in the way Google labels its own search services or even a change in algorithm could be a nasty blow to the company that is always working toward gathering information from consumers to provide personalized results. A nastier blow, though, could be a very costly, years-long battle in Europe — something Google will probably take steps to avoid, Carrier predicted.
"Search is at the core of Google's advantage over rivals, and so it would not generally be eager to make changes to its algorithm to satisfy antitrust authorities," Carrier pointed out. "My guess, though, is that Google will do whatever it can to satisfy the European Commission so it can avoid a long, expensive antitrust case."
Google and Almunia's office did not respond to our requests to comment for this story.