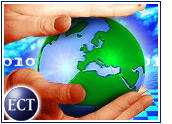 The European Commission said it has put back its decision on the joint acquisition by Microsoft and Time Warner of ContentGuard Holdings by two weeks.
The commission had been due to decide on the acquisition of ContentGuard, presently owned by Xerox, today, but will now announce its decision on or by August 25.
Two-week extensions are granted when companies submit remedies to competition concerns or when a national competition authority asks to rule on the deal.
EU and oracle
The European Commission also is set to restart its probe into Oracle's planned acquisition of rival technology group PeopleSoft within a month, said sources close to the case.
Oracle has already submitted a substantial part of the outstanding information required for the investigation.
The probe was suspended almost four months ago after the commission asked Oracle to submit data on its bidding process. Usually, when the commission issues a request for further information, the clock is stopped for just one month.
Probe Restarted
Sources said that the probe will be restarted "in the very near future" probably "within weeks." They said they expect the clock will definitely restart "within the month."
This move would follow the submission by the company of the remaining information. This may be even before the U.S. authorities' ruling on the deal, expected in August or early September.
The information request had created some furor inside the commission because the company has taken so long to respond. Two months ago, the commission contacted the company to ask why it had not yet submitted the details requested.
Oracle's Worldwide Operations
The commission is now distancing itself from the U.S. process because of the different legal standards used to analyze the competitive effect of mergers. Both U.S. and EU regulators believe the deal could create a situation of collective dominance since only two players — the new Oracle and Germany's SAP AG — will be left on the market.
The standards used to determine the effects created by such a situation were, at the time when Oracle notified the EU, higher. The commission will not be able to simply show that there will be unilateral effects whereby the remaining players raise prices individually with no collusion or even understanding of exactly what their rival is doing.
While the EU adopted a revised merger control test in May 2004, bringing its standards into line with the U.S. and allowing for the use of unilateral effects theory, the commission will not be able to apply the new test because Oracle had notified its deal in October last year.
"The European Commission has to prove that Oracle combined with PeopleSoft will be dominant, whereas the U.S. can show that the reduction in the number of players will lead to these unilateral effects," said one of the sources.
Once the EU restarts its probe, it must take a decision to clear, conditionally clear, or prohibit the deal within four weeks.