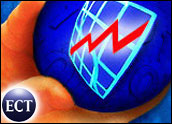 E*Trade (NYSE: ET) rose 33 U.S. cents to$7.88 in morning trading Wednesday, after the online brokerage reportedfirst-quarter results that were in line with analyst expectations, andannounced an expanded alliance with Target stores.
The Menlo Park, California-based online brokerage said income from ongoingoperations totaled $868,000, or breakeven per share, in the quarter endedMarch 31st, compared with a loss of $672,000, also breakeven, in the sameperiod last year. Revenue slipped to $330 million from $417 million.
E*Trade reported a net loss of $7.2 million, or 2 cents per share, comparedwith a loss of $25.5 million, or 9 cents, a year earlier.
The company said it added 166,112 new brokerage and banking accounts during the quarter, bringing the total to more than 3.7 million at quarter's end. Ayear earlier, E*Trade had 2.6 million accounts.
"Despite the current economic slowdown, E*Trade continued to demonstrate thestrength and flexibility of our business model," said chairman and chiefexecutive officer Christos M. Cotsakos.
E*Trade said it is focusing on existing customers by cross-selling bank andbrokerage services. The brokerage also opened a brick-and-mortar"superstore" in New York City, and is expanding its alliance with Target byputting more than 1,000 new automated teller machines and 20 additionalcustomer service centers in Target outlets nationwide.
"Looking ahead to the next six to 12 months, E*Trade plans to continueto invest in our efficient, scalable business model and broad productoffering while aggressively looking for cost-savings opportunities to ensurelong-term earnings growth," Cotsakos said.
Cotsakos added: "In many ways, the current economic environment has been the ultimate testof our business model. If our business can deliver operatingprofits during a full market cycle, we expect it will perform to itsultimate potential during stronger market, economic and businessconditions."