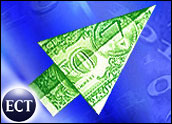 Despite a slight dip in revenue from the previous quarter, online investment firm E*Trade (Nasdaq: EGRP) on Wednesday reported a profit from ongoing operations in the first quarter of fiscal 2001, beating analyst estimates by a penny per share.
The news came as a further sign of E*Trade's ability to prosper during the dot-com downturn. Tuesday, the company announced that it was transferring its listing from the Nasdaq to the New York Stock Exchange in February under the new ticker symbol ET.
In early trading Thursday, E*Trade was up to US$14.67 from a closing value Wednesday of $13.97.
Excluding one time charges, E*Trade's earnings for the quarter ended December 31st were $5.8 million, or 2 cents per share, on revenues of $334 million. Analysts had predicted earnings of a penny a share.
Diversification Working?
E*Trade credits its success to its diversification strategy, which has included venturing into the realm of online banking by acquiring Telebanc Financial in July 1999. During an investor conference call, E*Trade said its online bank had helped it avoid a serious decline in earnings.
The company said that during the most recent quarter, there were $1.1 billion in net new deposits into E*Trade Bank, more than double that of the same quarter a year ago. Many of these new deposits came from E*Trade's brokerage customers who decided to shift their deposits into insured accounts, according to E*Trade chairman of the board and chief executive officer Christos M. Cotsakos.
Mortgaging the Future
Earlier this month, E*Trade announced that it had signed a definitive agreement to acquire online mortgage originator LoansDirect, in a bid to expand into the online home loan business. At the time, Morningstar.com analyst Alyssa Sibley told the E-Commerce Times that the acquisition was "another indication of [E*Trade's] commitment to diversifying and creating additional streams of revenue."
E*Trade's diversification strategy also includes taking its Web based services out of the realm of cyberspace and into the real world. On Thursday, the company announced that it was expanding its relationship with Target to open 20 E*Trade Zones — in-store financial centers offering access to E*Trade's Web site and assistance from customer service representatives — in the coming year. E*Trade opened its first E*Trade Zone in Roswell, Georgia in September.
Amazing Success
In the fourth quarter of 2000, Menlo Park, California-based E*Trade reported earnings of $7.2 million, or 2 cents a share, on higher revenue of $340 million.
However, E*Trade has shown dramatic growth in all metrics when compared to the same period a year ago, when the company reported a loss of $38.1 million, or 13 cents a share, on revenues of $273 million.
E*Trade's ability to prosper during tough times for dot-com brokerages is impressive when measured against the recent results reported by competitors Ameritrade (Nasdaq: AMTD) and Charles Schwab (NYSE: SCH).
Ameritrade reported a fourth quarter 2000 loss of $23 million, or 13 cents a share, on revenues of $130.7 million. By comparison, it lost $21.7 million, or 12 cents a share, in the same quarter a year earlier. The company also announced on January 8th that it was laying off 8 percent of its staff, or 230 employees.
Although Charles Schwab reported fourth quarter 2000 profits of $161.1 million, or 11 cents a share, before $224 million in acquisition-related expenses, the company's profits were significantly lower than the same period a year earlier. For the fourth quarter of 1999, the company reported profits of $190.5 million, or 14 cents a share.