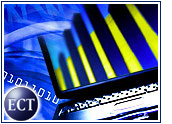 Despite the fact that overall traffic to business and finance Web sites grew by 11 percent during the second quarter, visitors to online trading sites decreased by nearly 20 percent, according to a study released Wednesday by Jupiter Media Metrix.
The study found that consumer banking sites — with an increase in unique visitors of 37 percent — were part of the reason for the business/finance sector's strong showing in the second quarter.
According to Jupiter, investors who stay abreast of financial news through Internet channels are twice as likely to have an online brokerage account than the rest of the online population.
Stock Tips Online
Jupiter also found that while only 10 percent of all Internet users have an online brokerage account, approximately 22 percent of visitors to such financial sites as CNNfn.com, Marketwatch.com and TheStreet.com have an online account.
Ronald C. Long, District Administrator for the Philadelphia District Office of the U.S. Securities and Exchange Commission (SEC), told the E-Commerce Times that the Internet has made it exponentially easier for investors to stay informed and that serious investors "should not be without Internet access."
However, Long cautioned investors to only rely on reputable Internet sources for investment information. He warned that investors should "not believe anything they read in chatrooms or on message boards."
Physical Presence Important
Although the recent decline in the stock market caused some investors to abandon online brokerages for more traditional forms of investing, having both an online and offline presence can help keep investors trading online.
Jupiter found that such online-only brokerage firms as E*Trade and Ameritrade lost 30 percent of their traffic between March and July. However, brokerage firms with both an online and offline presence, such as Schwab and Fidelity, lost only 18 percent of their traffic during the same time frame.
The study also found that during the market downturn, certain groups abandoned online trading in higher percentages than others. Those groups include: women and people in households earning more than $100,000 (US$) per year. The number of female visitors to online trading sites decreased by 38 percent during the period, while the number of high-income users decreased by 27 percent.
A related survey released Tuesday by Jupiter Media Metrix unit Jupiter Research predicted that U.S. households will have more than $5 trillion in investments — one-third of all consumer stock assets — managed online by 2005.
Notably, the Jupiter Research survey found that the biggest Internet investors will be those earning more than $100,000 a year.
"Women and high-income individuals are most sensitive to stock market shocks, as they tend to be more risk averse and tend to be more reluctant to visit online-only brokerages during periods of volatility in the market," said Rob Sterling, senior analyst in Jupiter's financial services practice.
More Time at Trading Sites
Online brokerages may be seeing fewer visitors than other business/financial services sites, but the visitors they do have are staying longer.
The survey found that the over 24.2 million Web users who visited personal finance sites — including such sites as Nextcard.com, Moneycentral.com, Capitalone.com, Americanexpress.com and Quicken.com — only stayed for an average of six minutes daily.
By comparison, online brokerages had 8.1 million visitors, who each stayed an average of nine minutes daily.