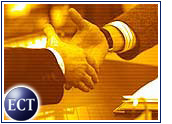 Online financial services provider E*Trade Group (Nasdaq: EGRP) announced Thursday that it has signed a definitive agreement to acquire online mortgage originator LoansDirect.
Morningstar.com analyst Alyssa Sibley told the E-Commerce Times that the acquisition is"another indication of [E*Trade's] commitment to diversifying and creating additional streams of revenue."
Menlo Park, California-based E*Trade said that the deal will be structured as a purchase with E*Trade stock used as consideration, but did not disclose other terms of the agreement.
Sibley said it is notable that E*Trade is using stock to pay for the purchase because that stock has dropped dramatically in the past year. E*Trade was trading at US$10.81 at mid-day Thursday, up 8.5 percent from its Wednesday close of $9.97. E*Trade's 52-week high of $34.25 was reached in March.
Gaining Leverage
E*Trade said that it expects the purchase to "increase yields on a sizeable portion of the bank's portfolio, resulting in a substantial revenue and net income gain."However, because E*Trade declined to release more details of the purchase, Sibley said she would expect the impact on the company's financial status to be "minimal."
E*Trade also said that "by leveraging the scalable and cost-efficient LoansDirect model as a springboard to enter the consumer credit market," it will be creating the first online financial services company to integrate a mortgage origination platform with both Internet banking and online brokerage services.
The deal is expected to close in the current quarter, following regulatory and other approvals.
Revenue Streams
In addition to providing E*Trade with total control over the mortgage process, the acquisition allows the company to diversify its revenue stream by adding additional channels, such as origination points, loan-related fees and gain on sale revenue.
Sibley said that E*Trade's online brokerage business is mature and does not need much tinkering, but noted that E*Trade's banking services still require a "little tooling."
She added that since its acquisition of Telebanc Financial in July 1999, E*Trade has done a "great job of building up the deposit base," and that this move should strengthen E*Trade Bank even more.
In December, E*Trade Bank reported more than $11 billion in assets and $5 billion in deposits, more than double the $4.9 billion in assets and $2.3 in deposits that it reported a year earlier.