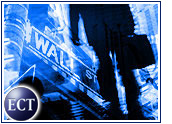 Cheap trades, a retirement planner and free unlimitedquotes boosted TD Waterhouse to the top of ForresterResearch's latest rankings, released Monday, for online brokerage services.
TD Waterhouse obtained a "PowerRanking" of 59.12 to edge out two-timewinner Charles Schwab, which came in second this year with a score of 58.63.
Rounding out the top five Internet brokerage firms were CSFBdirect with a score of 58.47, Ameritrade at 58.20, andDatek Online at 57.97.
"The rankings are so tight, with less than two pointsseparating number one TD Waterhouse and last-placeE*Trade," said Forrester research director Tom Rhinelander.
"With all the sites providing the basics, consumershave to decide what perks are important to them –whether it's the security of having Schwab officesjust around the corner or the excitement of areal-time, interactive tool like Datek's 'Streamer,'" Rhinelander added.
Cheap Trades
Dooming Schwab to a second-place finish was the factthat it charges US$29.50 for basic trades, compared tothe $12 charged by TD Waterhouse.
The Forrester report said that Schwab received a "dead-last" ranking in the "value" category, according to the consumers surveyed.
One consumer polled by the research firm commented that the Schwab fee to trade options is "incredibly high," which makes the trading of options by small investors "nearly worthless."
Also earning low marks for value were sixth-placeFidelity, which charges $25 per trade, and fourth-place CSFBdirect,which charges $20 per trade.
Cost Not Everything
Cost was not the only determining factor, however, in ranking the online brokerage firms.
TD Waterhouse was actually more expensive than twocompeting online brokerages — Ameritrade at $8 a tradeand Datek Online at $9.99 — but TD Waterhouse won points with consumers for its customer service and for other features, including an asset allocator, checking accounts andwireless trading.
Despite topping the PowerRankings, TD Waterhousereceived low marks for its busy site and the lack of navigational choices offered on the site.
Schwab received high marks for its easy trading and ahost of features, including online bill payment,retirement planners, mutual fund selectors anddownloadable software for active traders.
Although E*Trade came in dead last in the Forrester rankings, it did win high praise from consumers for its consistentuser interface, free online bill payment andwireless trading features.
Stiff Competition
Because the economic downturnhas driven many small retail customers away from online trading, Internet brokerages have been fighting tooth and nailfor customers in recent months.
For instance, Schwab announced earlier this month that its February tradingactivity was down 13 percent from January.
As a result of lowered trading volumes and a generallygloomy economic outlook, Schwab saidThursday that it was cutting up to 3,400 jobs and slashing itsfirst quarter earnings estimates. Schwab said it now expectsto report first quarter 2001 operating income ofapproximately 8 cents per share. Analysts hadpredicted earnings of 11 cents per share.
Need for Versatility
Schwab's decision to cut its workforce followed layoff announcements at both Ameritrade and TD Waterhouse.
Morningstar.com analyst Henry Milling told theE-Commerce Times recently that the coming months willbe "very difficult" for independent online financialservices firms that only offer online trading.
"The more services a company can offer, the better itschances of remaining independent and alive," Millingsaid.