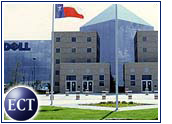 Dell Computer Corp. (Nasdaq: DELL) was down 0.94 at 18.06 early Mondayfollowing reports that Bear Stearns cut estimates for the computer maker's2001 and 2002 earnings.
The firm reportedly lowered its outlook for Dell's 2001 earnings per share from 92 cents to 87 cents, and cut its forecast for 2002 earnings to 90cents per share from $1.05.
Dell reported third-quarter revenue of US$8.3 billion, up 22 percent from ayear earlier, but below the 40 to 50 percent growth rate seen in previousyears. Income rose to $674 million, or 25 cents per share, from $483million, or 18 cents.
Dell and its fellow computer manufacturers have warned that a slowdown in PCdemand will crimp earnings for the current quarter.
The Bear Stearns report comes on the heels of a similar one last week fromLehman Brothers, where analyst Dan Niles reportedly reduced his estimatesfor the company because of weak December PC demand.
Research firm PC Data said last week that December was a bad month for PC sales,which dropped 24 percent from a year earlier, marking the fifth consecutive monthof year-over-year declines in unit sales. For the year as a whole, PC sales were down 0.8 percent to 10.1 million units –the first annual decline ever recorded by the firm.
December retail PC revenue fell almost 30 percent from a year earlier to $855 million, PC Data said.
According to PC Data, one reason for the decline was the absence of Internet serviceprovider rebate programs, which boosted sales in 1999. In addition, the slowdown in the economy hurt PC sales. The firm also cited "slightly higher" PC prices and "the lackof a compelling upgrade rationale for the millions of consumers whopurchased PCs over the last two years" as reasons for the decline.