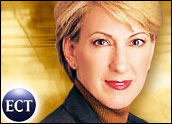 Intel Corp. (Nasdaq: INTC) fell 4 3/8 to 37 Friday following reports of a downgrade by Morgan Stanley Dean Witter.
Morgan Stanley analyst Mark Edelstone reportedly lowered his rating on Intel to neutral from outperform because of a slowdown in demand for personal computers.
Concern about a PC market slowdown was fueled by the third-quarter earnings report of Dell Computer Corp. (Nasdaq: DELL). Though revenue at Dell grew 22 percent year-over-year in the quarter, the results were not as strong as in previous years, and the news helped send technology issues plunging. Dell, which uses Intel processors in its computers, fell 5 3/8 to 23 Friday.
Intel shares, which traded above 75 last summer, have already fallen in recent months amid concern about demand in a slowing market for PCs. The stock set a 52-week low of 35 last month.
Intel's third-quarter results beat analysts' estimates; however, those estimates had been lowered after the company warned that growth would not be as strong as previously thought. In the fourth quarter, the company expects revenue to grow just 4 to 8 percent sequentially, much slower than in the past.
The company's introduction Monday of two new Celeron processors failed to help the stock's slide. According to Intel, Celeron processors are the second-highest selling PC processors in the world behind the Pentium III processor family. PC manufacturers are now announcing systems based on the new Celeron 766 and 733 MHz processors, with more system introductions expected within the next 30 days.
In early trading on Monday, Intel was down 3/8 at 36 5/8. The company said the new processors are its fastest ever for desktop PCs.