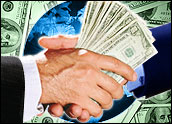 Two private equity firms, The Carlyle Group and Providence Equity Partners, jointly announced on Monday that they have signed a definitive agreement to acquire Open Solutions in a transaction valued at over US$1.3 billion.
Under terms of the agreement, The Carlyle Group and Providence Equity Partners would acquire all of Open Solutions' outstanding shares of common stock, while Open Solutions' stockholders would receive $38 in cash per share — or a 32 percent premium over the averageclosing price of the company's stock for the last thirty trading days.
Open Solutions' board of directors has unanimously approved the transaction and recommended to stockholders that they adopt the merger agreement andapprove the merger. The transaction is expected to be completed during the first quarter of 2007, assuming it meets approval by the stockholders.
A meeting will be scheduled following the preparation and filing of definitive proxy materials with the Securities and Exchange Commission.
Another Bidder in the Wings?
It is possible that stockholders will have a better offer in hand when that meeting occurs.
"We do not believe Open was heavily shopped and, as a result, would not rule out a higher bid," Nik Fisken, a managing director with investment banking house Stephens, wrote in a research note published Monday morning.
"If a higher bid materializes, we think the most likely scenario centers around Oracle," he speculates.
Oracle recently acquired i-flex, a company that serves larger banks and has a more international footprint than Open Solutions, which operates only in North America.
Indeed, a bidding war is not out of the question. Competition for strong acquisitions has been fierce, in large part due to aggressive privateequity investors looking for higher yielding transactions outside of the traditional debt and equity markets.
This is true not only in the tech space but in other sectors as well — most notably real estate.
CDC, a Hong Kong-based tech firm, had been trying to acquire mid-market CRM vendor Onyx for months, when M2M Holdings, a private equity firm jointly owned by Battery Ventures and Thoma Cressey Equity Partners entered the scene with an offer that Onyx's management favored.
Whither the Customers
Generally, both the acquired firm — eager to be taken private and given an infusion of capital — and the acquirer are happy with such deals. For customers, though, these acquisitions can be a mixed blessing, Wayne Kernochen, an analyst with Illuminata, told the E-Commerce Times.
"I would expect this transaction to be either a moderate success or mediocre failure," which, he said, is characteristic of most public-to-privatetransactions.
Typically in these deals, he said, the acquiring companies tend to focus on shorter-term product development, ruling out product paths that have a long-term gestation period that would require a bigger gamble on market direction.
Open Solutions did not return calls for comment.