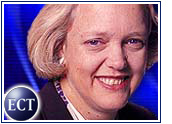 Making a high profile push to attract new users, online auction leader eBay (Nasdaq: EBAY) launched its first national television ad campaign Wednesday with two 30-second spots.
The ads ran during prime time TV shows on the three major U.S. networks, including "Who Wants to Be a Millionaire?" and "The West Wing." The spots also appeared on late-night TV and will run again during National Football League (NFL)playoff games this weekend.
"I think this campaign is not a bad idea for eBay," Morningstar.com analyst David Kathman told the E-Commerce Times. "They're going to need to expand their audience beyond the traditional online crowd if they're going to meet the aggressive growth target they've set for themselves."
Ready to Spend
While the move to expand advertising comes at a time when most dot-coms are reducing marketing expenses in a bid to save money, "eBay can afford to take a chance right now," Kathman said.
Kathman also noted that in contrast to shakeout victims such as Pets.com, which spent up to 300 percent of revenue on marketing, eBay has been spending about 35 percent of its revenue on sales and marketing.
"That's somewhat high compared to more established companies, but reasonable for an Internet company," Kathman said.
Humor with a Message
The commercials share the same theme — that eBay is a source for a range of items, including major appliances, hard-to-find items and high-end goods. Both ads end with the tagline: "If you broke it, lost it, need it cheap or just can't find it anywhere else, eBay."
"We hope they reflect the fun that people have when they come to our site," eBay spokesman Kevin Pursglove told the E-Commerce Times. "We want to show that buyers can buy a wide range of products in areas not typically associated with eBay."
In one spot, a dog buriesseveral expensive items in the backyard, including a violin, cell phone and pearl necklace. In the other ad, a couple goes through its day at home while appliances explode, bathtubs fall through floors and a chunk of the house falls and crushes a car parked in the driveway.
Once and Future Users
Pursglove said the targets for the commercials are people who already use the Internet and may have visited eBay in the past but need a reminder that on-site auctions offer a medley of goods.
"The goal is for us to reach people who are familiar with eBay but not making much of an effort to buy or sell with us," he said.
The ad campaign represents a shift for eBay, which focused its early marketing efforts on working with other online companies, such as America Online, to drive traffic to the auction site.
Already Well Known
More recently, eBay has relied on radio and newspaper spots, although it did get some TV exposure through a Visa advertisement that featured eBay.
In October, eBay confirmed it was in talks with the major U.S. television networks about creating a TV show featuring the site's products and the people who put them up for auction. ABC, whose parent company Walt Disney launched a co-branded auction site with eBay that month, was said to be a frontrunner in the negotiations.
eBay enjoys relatively strong brand awareness already. In a recent National Retail Federation/Forrester Research e-tail scorecard, eBay ranked second behind Amazon.com on both name recognition and the number of buying customers attracted.
eBay is also one of the few profitable e-commerce companies. However, some analysts have raised questions about the company's recent claim that it can sustain nearly 50 percent annual growth for the next five years and reach US$3 billion in revenue by 2005.
A New Approach
The new ads were created by Goodby, Silverstein & Partners of San Francisco, California. Pursglove would not reveal the cost of the ads or of the extensive air time that was purchased to run them.
Current plans call for the ads to run through the end of the year, althoughPursglove indicated that eBay is looking toward points beyond.
"I think it's highly likely you'll see more ads from us next year and a higher overall profile," Pursglove said. "This is a new approach for us. It's a much more direct way of reaching out to potential users."