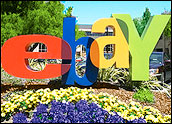 Barely a week after eBay announced a change in leadership, the online auctioneer unveiled a major switch in strategy. The company plans to reduce by half the up-front fees it charges users to list their items on its platform. It will also offer its best seller incentives and raise its minimum selling standards.
The strategy, unveiled by John Donahoe, the company's incoming chief executive officer and current president of eBay Marketplaces, is designed to increase traffic for eBay, which has struggled in recent months.
"Consumers have more choices than ever, and they expect more when they shop online today," Donahoe told a gathering of more than 200 of the company's top North American sellers in Washington Tuesday. "We're serious about making eBay easier and safer to shop."
The changes are scheduled go into effect Feb. 20 in the U.S. and soon thereafter in the United Kingdom and Germany. Adjustments will follow worldwide after that, at a time still to be determined.
Taking Away Obstacles
eBay's strategy is about removing obstacles to users, said Greg Sterling, founding principal of Sterling Market Intelligence.
"They're trying to sort of make themselves more friendly to sellers," he told the E-Commerce Times. "There had been conflicts between sellers and eBay as they raised prices on the front end."
The changes shift eBay's profit away from up-front user fees to higher commissions when an item sells, the company noted.
The effort is a smart move, Sterling commented. "It's a way to not make sellers feel they're being unfairly pinched. It's a shared risk where eBay gets more out of actual transactions but charges less."
Nevertheless, the changes won't affect buyers, he added. "Consumers don't care. It's not going to have any impact on them. It's all about customer relations management from a B2B (business-to-business) perspective."
Moving the costs from front to rear lowers the risk to users who might not be able to sell their items, the company commented.
Low-Cost Items
Low-cost items will incur the greatest hit, with fees increasing 67 percent on goods selling for less than US$25. eBay's cut on those sales will be 8.75 percent of the sale price.
eBay — whose current CEO, Meg Whitman, last week announced she would be leaving at the end of March after a decade in the job — is still No. 1 in its field, although it has struggled of late.
The company's user traffic has been flat, having increased only 2 percent from last year.
"I guess I'd say they still hold a pretty dominant position in the auction category; certainly, they're way out in front of their competitors, even though their usage has been fairly flat over the last year," Andrew Frank, research vice president for Gartner, told the E-Commerce Times. "They're still the incumbent, and this is more about an incumbent with a lot of momentum needing to be an innovator."
Attracting New Users
The move also is designed to bring new users to eBay, Frank said. The company launched in 1995 with fewer than three dozen employees.
"It should make things simpler and also alleviate some of the concerns about fraud and how trustworthy the auction category is for newcomers," Frank said. "I can see how this would help, from a marketing standpoint."
Donahoe had said that changes were coming in eBay's business model, with the company facing increased competition from Amazon.com — which has no user fees — and other e-tailers.
Tuesday's announcement is a strong backing for Donahoe's promise to bring change to eBay, said Avivah Litan, vice president and research director for Gartner.
"If this isn't going to work, nothing else would," she told the E-Commerce Times. "This is definitely putting your money where your mouth is."
eBay shares were trading at $26.06 during midday trading on the Nasdaq stock exchange, down 3 percent from their previous closing price. The stock had a 52-week range of $25.75 to $40.73.