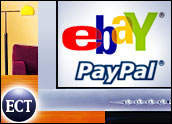 eBay's PayPal unit will acquire the software firm Fraud Sciences for US$170 million. The move could help boost confidence in the online payment industry and in the parent company's online auctions.
Based in Tel Aviv, Israel, and founded by former members of Israel's intelligence agency, Fraud Sciences gives merchants online tools to help them verify the identity of buyers, a key issue in both online auctions and in other parts of e-commerce — particularly when more and more purchases come from overseas buyers.
"Integrating Fraud Sciences' risk tools with PayPal's sophisticated fraud management system should allow us to be even more effective in protecting eBay and PayPal's hundreds of millions of customers around the world," said Scott Thompson, president of PayPal.
Deal Details
The all-cash purchase is part of a larger move by eBay to "significantly improve trust and safety" on its platform during 2008, Thompson added.
Fraud Sciences cofounders Shvat Shaked and Saar Wilf along with Chief Operating Officer Yossi Barak will join PayPal's technology and fraud management teams after the deal closes, while President and CEO Gadi Maier will leave after a transitional period. BRM Capital and Redpoint Ventures are some of Fraud Sciences' backers.
The purchase will not have any material impacts on eBay's results for fiscal 2008 from the acquisition, the company said, noting that it believes the deal will close within 30 days.
eBay shares rose 1.3 percent in morning trading Monday to $27.17. The stock had been beaten up by investors after eBay's most recent earnings announcement included a weaker-than-expected forecast for 2008.
Security Push
At the same time last week that eBay announced earnings and also confirmed CEO Meg Whitman's March departure date, it also said it will seek to reinvigorate the core eBay platform. That effort will involve addressing the two most common complaints from buyers and sellers: The fee structure for auctions and fixed-price sales and the risk of fraud, such as purchased items that never arrive or would-be buyers who don't honor their winning bids.
eBay will announce fee reductions in coming weeks, noted incoming CEO John Donahoe.
Fraud has dogged eBay's auction system since the site's inception, and to some extent comes with the territory given the peer-to-peer nature of eBay sales, where the company provides the platform for users to make transactions, said Forrester Research analyst Carrie Johnson.
"Fostering a higher level of confidence in the platform could mean more listings and that will bring more buyers and lift the whole site," Johnson told the E-Commerce Times. "At the same time, millions of merchants who use PayPal will appreciate the added fraud protection."
Fixing What Ails eBay
PayPal continues to hold its own against a challenge from Google Checkout, which launched in June 2006. During that same time, Fraud Sciences won fans among merchants who are eager to cut down on the fraud they have to absorb, especially as their exposure to international sales grows.
With the purchase, eBay can both address the auction platform fraud and beef up PayPal as a tool for non-auction sales — a true growth business given the interest among consumers and merchants alike to find secure alternatives to credit card payments, Sterling Market Intelligence Principal Analyst Greg Sterling told the E-Commerce Times.
"PayPal saw Google Checkout come in to the market just as it was eyeing more growth outside eBay," Sterling commented.
That PayPal has continued to hold its own despite a strong push from Google to foster Checkout growth may give eBay confidence that it can now grow that part of the business and helps justify the investment in Fraud Sciences, he added.
The larger question may be whether the acquisition, and other moves Donahoe has in mind, can light a fire under eBay's core business.
eBay's unique visitor count fell in December compared with the previous year, according to Nielsen Online. Meanwhile, eBay's below-expectations earnings forecast issued to Wall Street last week could be a possible sign the company expects that its efforts to jump-start auction listings and attract more buyers will take more time to take hold.