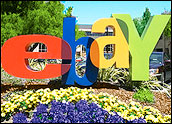 eBay confirmed Wednesday that its president and CEO, Meg Whitman, will step down after a decade at the helm of one of the most successful e-commerce companies in the world. Investors brushed aside the succession news to focus on the auction company's relatively weak forecast for 2008.
Whitman will leave eBay at the end of March; eBay Marketplaces chief John Donahoe will succeed her as CEO. Whitman will remain on the company's board of directors.
The confirmation came as eBay announced its fourth-quarter results, which showed a respectable though not blockbuster holiday period. eBay earned US$531 million, or 39 cents a share, a 53 percent profit jump and well ahead of the 33 cents per share expected by Wall Street analysts. Revenue was $2.18 billion, up 27 percent from the previous year and also edging past forecasts of $2.14 billion in sales. It was the first time eBay had ever posted revenue of more than $2 billion.
Investors' Focus
As with fellow tech icon Apple, however, eBay's historic results were quickly pushed aside by investors who chose to focus instead on its outlook. eBay forecast revenue for all of 2008 to be between $8.50 billion and $8.75 billion, a 12 percent growth rate at the mid-point. Analysts had been calling for growth of closer to 18 percent, or more than $9 billion for the full year.
"We intend to be in a stronger position coming out of '08 than we were coming in," Donahoe said.
eBay shares dropped more than 10 percent in early trading Thursday, falling to $25.86; by midday, the stock edged up to $27.20. The stock has traded above $40 as recently as last October.
Helped by Recession?
In some ways, a recession might be good for eBay. Whitman has long maintained that the universe of buyers and sellers on the platform grew during the 2001-2002 recession, as workers who lost their jobs turned to eBay to raise cash, many becoming full-time power sellers in the process. At the same time, more buyers may turn to eBay in down times believing they can find bargains.
However, eBay will make changes to how it operates in order to keep its platform growing — including reductions in listing fees that may impact results in the short term but are meant to ensure long-term growth, Donahoe noted.
"We've taken a close, hard look at the entire eBay buying and selling experience, and we're going to make breaks from the path where necessary to deliver the experience our users tell us they want," he commented. Announcements about pricing and other feature changes would be made in coming weeks, Donahoe added.
A key question for Donahoe will be whether he can make the whole of eBay and its acquisitions greater than the sum of its parts, said Forrester Research analyst Charlene Li.
Growth in the main eBay business has been slowing for some time, and many of the purchases were meant to help address that while also creating a more connected marketplace, Li told the E-Commerce Times.
"Given its community nature, eBay seems to have the potential to unlock some of the power of social networking to drive its growth," she added. "The key will be how well those things all come together."
eBay's PayPal online payment division posted a strong quarter — posting three straight quarters of revenue growth for the first time since the e-tail giant bought it in 2002. PayPal now accounts for 8 percent of all online transactions worldwide, eBay said, and handled $14 billion worth of payments in the fourth quarter, a 35 percent year-over-year increase.
Last year, eBay took a significant write-down on its Skype peer-to-peer communications platform, reducing the value of the acquisition by tens of millions of dollars. Revenue from Skype was up 76 percent in the quarter to $115 million, and it grew its user base to 276 million worldwide, with millions of new users signed up as a result of a partnership with MySpace.
Transition Time
eBay will be closely watched this year for signs of how well it is executing in the changing economic environment and also what impact Whitman's departure will have.
For her part, Whitman said she felt 10 years was the right about of time to serve as CEO, adding that she would only leave if she felt certain a sound transition plan was in place. "I'm very confident that we have successfully executed on that," she noted, saying that the time is right for eBay to have "new leadership, a new perspective and a new vision."
Whitman steered eBay from a relative startup when she joined in 1998 — it had $4.7 million in revenue that year — to a global powerhouse with $7.7 billion in 2007 revenue and a slew of related businesses acquired through acquisition, such as PayPal and Skype.
She was also seen a powerful motivator and cheerleader for eBay's key buyer and seller constituencies, many of whom are die-hard devotees to the platform and community.
Donahoe's Credibility
Key to the transition will be the level of credibility Donahoe has with Wall Street and other key constituents, said Constance Dierickx, an executive consultant with RHR International.
The board and eBay investors should also be patient, Dierckx noted. "Once a new CEO is selected, only half the process is complete. Generally, it takes 12 to 24 months for a new CEO to effectively integrate into the role, even when an insider is given the job."
eBay also announced that Rajiv Dutta, PayPal's current president, would take over Donahoe's marketplace role. Additionally, it noted that longtime eBay North America President Bill Cobb will retire from the company.
eBay disclosed that its board had authorized a share buyback program worth up to $2.8 billion more, in addition to the $3.2 billion worth of its own stock it has bought over the past 18 months.