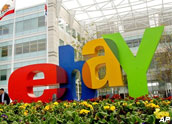 eBay is launching its own contextual ad tool called eBay AdContext in order to build out its third party distribution network — and shift away from a too heavy reliance on Google.
Like similar applications launched by Overture and Google, AdContext is, at bottom, designed to entice online distributors — from established commercial sites to individual bloggers — to link to eBay. In exchange, the Web site receives a share of the revenues eBay would make from buyers who click through to eBay's auction site.
The Downside of Buy Now
This move — along with several other maneuvers eBay has made in recent months, including the formation of a partnership with Yahoo — is part of a strategy to shore up its business operations, Matt Booth, program director with the Kelsey Group, told the E-Commerce Times.
There have been a few worrisome developments of late that could erode eBay's viability in the industry. One is the increasing level of revenues that come through its "Buy Now" button. "These goods and services are available at any time — they are not auction items," Booth said. "The more goods that are purchased this way via eBay, the more vulnerable it becomes to competitors."
About a third of eBay's revenues currently come from "Buy Now," he noted.
It is Google, though, that represents the greater threat to eBay. Statements made by the auction site's top executives indicate that the company regards Google as its biggest competitor — and biggest opportunity, Booth said.
"AdContext is all about eBay trying to strategically position itself to retain their spot in the market," he said. By sharing listings with new partners — the first time the company has done so — eBay not only pushes out content but also becomes far less reliant on one or a few distribution partners.
New Era
In May, Yahoo and eBay announced an agreement to collaborate on new search and graphical advertising opportunities, a co-branded toolbar, and "click-to-call" functionality. The two companies also announced that PayPlay would become the exclusive third party provider of Yahoo's online wallet.
Like Monday's AdContext announcement, this agreement with Yahoo is part of eBay's push to integrate its product into partner Web sites, Booth said. "I think we will see more examples of this type of third party collaboration."
One ripe opportunity for eBay, he noted, would be the integration of its rating system into other Web sites. "They haven't decided to do that yet, but if or once they do, it would be a huge development," he commented. "A business's rating on eBay is a highly marketable endorsement."
For eBay, the payoff would be an increase of local market traffic.