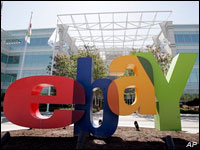 Shoppers and merchants hoping to buy and sell supernatural and occult items will have to head somewhere other than eBay starting Aug. 30, when the online auction site will enact a ban on selling such things as magic spells and potions.
eBay updated its fall seller's guide this week. Among the newly banned items are "advice, spells, curses, hexing, conjuring, magic, prayers, blessing services, magic potions and healing session."
The site noted that the switch is part of a routine update following customer reviews and feedback.
"Buyers and sellers have told us that the transactions in these categories often result in issues that can be difficult to resolve," Johnna Hoff, media relations at eBay, told the E-Commerce Times.
Services such as hexing or curses can be difficult to monetize, but eBay is allowing most tangible items to remain up for sale, said Hoff.
"It's important to note that items that have a tangible value for the item itself and may also be used in metaphysical rites and practices — i.e. jewelry, crystals, incense, candles, and books — are allowed in most cases," said Hoff.
Why Potions?
eBay is not the only sales site on the Web, so vendors looking to sell magic potions or hexing services have other outlets to turn to, such as Craigslist. Outside of reliability, eBay could be facing pressure from faith-based organizations that use the site often, said Tim G. Richardson, professor of e-commerce at Seneca College and the University of Toronto.
"eBay and sites like YouTube are increasingly under pressure from activist shareholders, from comments to the board and from faith-based organizations that are worried about buying or selling products contrary to the tenets of what they practice," he told the E-Commerce Times."
Other Means
The move has some eBay vendors fuming. One eBay metaphysical buyer started an online petition asking eBay to rethink its position. The petition states the writer's concern that the new policy could be perceived as a form of religious or ideological discrimination against occultism or other esoteric metaphysical beliefs. It warns eBay of the negative publicity that could come from such a stance.
Still, the company's reach only goes so far, said Richardson. For instance, a vendor could sell a harmless item such as a candle that has a scent named something like 'Witches Brew,' or another innocuous name and protest if it was banned from the site. Or vendors could adapt and sell items under euphemisms. The sheer volume of items available on the site makes it difficult to weed out the truly offensive products, said Richardson.
"eBay might say they're going to do this, but it's almost impossible," he said. "There are so many vendors on eBay that can sell so many other things, that it makes you wonder how they are really going to block it."