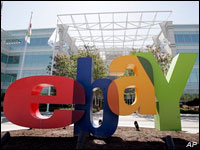 eBay may expand its customer base by opening the site to online shoppers under the age of 18. The etailer is considering plans that would allow users between the ages of 13 and 17 to buy and sell eBay's offerings online.
Children under the age of 13 are protected under the Children's Online Privacy Protection Act (COPPA). The legislation dictates what websites must include in their privacy policies in relation to minors, and how and when to require parental consent. Online retailers also face fees or restrictions if they market items specifically to a young demographic.
eBay would strive to make sure its initiative would be safe, legal and engaging for both parents and young shoppers.
"We continue to explore innovative ways to attract new customers to the world's largest online marketplace," Kari Ramirez, global communications for eBay, told the E-Commerce Times. "Developing a student account program reflects our desire to introduce shoppers age 13 and up to eBay, with parental consent."
eBay hopes to launch a pilot program for younger users in the U.S. sometime in the next nine months.
Privacy Questions
As sites that rely on a heavy and loyal user base — such as eBay — are having to find fresh new ways to broaden that audience, a younger crowd with an expendable income is a natural place to turn, said Frederick Lane, attorney and author of Cybertraps for the Young.
"Facebook is dealing with the same issues — they're plateauing in terms of growth," he told the E-Commerce Times. "They're asking themselves how they can legitimately let this crowd on the site."
That means abiding by privacy protections such as COPPA and implementing restrictions for younger shoppers — such as checking a box to give their age. eBay said it would look into putting those types of stops into place, as well as figuring out a way to ensure parental consent.
The site is currently soliciting insight from parents and students for the program's design to make sure it is a trustworthy experience for both, said Ramirez.
However, it seems that no site has determined the perfect formula for guaranteeing that parents watch over their children's shoulders while they're browsing the Web, said Lane, and there's no way to guarantee a child who claims to be older than 13 is telling the truth.
"There is really no effective mechanism for determining the age of an individual," he said. "In a sense, eBay is going to subject themselves to greater privacy standards."
eBay does have one built-in protection that makes it safer than other sites, such as Facebook, since a transaction requires payment, said Parry Aftab, privacy lawyer and executive director of WiredSafety.
"If you're buying something on eBay, you have to have a payment mechanism," she told the E-Commerce Times. "It could be a PayPal account, or a credit card, or something else, but a 13-year-old is not going to be able to sit down and buy whatever they're going to buy without having their own payment mechanism."
Unnecessary Problems?
That kind of free rein on spending could be the root of potential problems for eBay if it officially opens the site to shoppers under 18, said Aftab.
"There are protection mechanisms in place, so this shouldn't bring too many legal risks," she said. "But what is interesting is what kids would be buying. It could be they buy something on eBay that you can't bind to them legally. Because they're kids, you can't keep track of what they're buying like you could adults, but it would be interesting to see how eBay could place restrictions on what it allowed children to buy."
It could only take one incident of a child buying something potentially dangerous for the policy to backfire on the site, said Lane. Given the potential legal and public relations crises — especially for unclear economic gains — a better business strategy might be hoping to gain new loyal adult customers by assuring parents it is doing everything it can to keep the site safe for all its customers.
"eBay could say that it knows parents are feeling challenged with all the negative influences online," Lane suggested. "They might say they know kids are using the Internet to buy all kinds of things they shouldn't buy, and since there isn't a clear set of enforcements in place, eBay is going to make sure it's not a part of it. That might be better than opening up a Pandora's box of privacy complications."