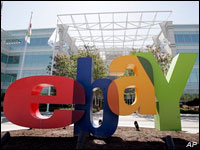 eBay posted solid first-quarter earnings on Wednesday, but the company underperformed based on projections by Wall Street. eBay then delivered guidance that did not meet the mark, doubling investors' disappointment.
As a result, they are casting worried eyes toward eBay's future.
"eBay, though economically resilient, is not immune to the slowdown in Europe," Charles Lewis Sizemore, a Covestor model manager, told the E-Commerce Times.
Solid Increases Year over Year
eBay reported a 14 percent year-over-year increase in Q1 2013 revenue to US$3.7 billion. Net income was $677 million, or 51 cents a share, a 19 percent increase from the same quarter a year ago.
However, Wall Street analysts had been expecting more — namely, a profit of 61-63 cents per share and revenue of $3.8-$3.9 billion.
Digging Deep Into PayPal
In light of these latest figures, investors are homing in on PayPal, eBay's online and mobile payment offering, wondering if it can go the distance and bring its parent along.
This is ironic, because eBay's first quarter was solid, Andreas Scherer, principal of Salto Partners, told the E-Commerce Times. "Its profitability was stronger than expected. But now investors are evaluating the future of the company in terms of whether the other business units can keep up with PayPal."
In other words, PayPal is setting a standard that the rest of eBay may not be able to uphold.
PayPal accounts for a little more than 40 percent of eBay's revenue, and it represents the company's real future, Charles Lewis Sizemore, a Covestor model manager, told the E-Commerce Times.
"PayPal is already the de facto standard for website payments for small businesses," he said.
This doesn't tell the entire growth story, however, Sizemore continued. Increasingly, PayPal is making inroads into mobile payments — a rich but still unmined area where a company with brand name recognition is sure to make a splash.
"Sure, every Web startup uses PayPal," he said, "but what about small service business? With PayPal's new mobile apps, you can pay your landscaper or babysitter with your credit card or PayPal balance with nothing more than a smartphone."
One day, not too far off, Sizemore envisions being able to get off a plane in, say, Peru and pay the cabbie with PayPal. "We're getting to that point at a blistering pace."
Benefit of the Doubt
Excitement about eBay's business model was all but moribund before it started experimenting with an assortment of different business strategies. Today that is no longer the case.
The cautious consensus now appears to be that eBay has charted the correct path and is heading down it as speedily as it can. More than likely, investors will forgive eBay its missed guidance for that reason, Scherer said.
Even the retail component of eBay — an old e-commerce story by now — looks exciting to investors because of its role as front end to the online payment unit, Scherer said. All around, "the future of the company looks bright."