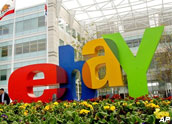 Seeking to put to rest a chapter from the dot-com heyday when insider access to Internet companies staging IPOs was as good as gold, eBay executives have offered to settle a shareholder lawsuit alleging they benefited personally from investments that should have helped eBay as a whole.
CEO Meg Whitman, founder and Chairman Pierre Omidyar and former President Jeffrey Skoll have agreed to reimburse eBay US$3 million to settle the long-pending lawsuits. A court must give final approval to the settlement.
The case involved eBay's investment bank, Goldman Sachs Group, which has agreed to pay $395,000 in restitution as well as part of the settlement. Goldman was lead underwriter of eBay's 1998 IPO and went on to direct scores of other blockbuster offerings during the tech boom.
Shares for Top Executives
According to the complaint, Goldman Sachs offered eBay executives access to IPO shares of technology companies between 1999 and 2001. That practice is known as "spinning" and has been used by investment banks to reward their best clients. The practice of spinning shares was banned in 2003 but was legal before that.
Individual investors are typically unable to get access to shares of companies staging IPOs until after they've gone public — which often means the stocks has already risen considerably in price.
The shareholders who sued claimed that Goldman should have extended the same offer to buy shares to all eBay shareholders, arguing that the company as a whole — and by extension all those who owned its stock — should have benefited from the profits, not just the top executives.
Sweet Charity
The executives profited some $3 million by "flipping" the shares, or selling them shortly after they had risen on the open stock market.
The settlement does not call for the executives to admit any wrongdoing. It also stipulates that half of the approximately $3.4 million be donated to two California-based charities — the Boys & Girls Clubs of Northern California and Appleseed.
The way was cleared for a deal last month when a Delaware judge refused to throw the case out of court, according to Adam Prussin, the lawyer from the firm of Pomerantz Haudek Block Grossman & Gross who represented the shareholders.
Spinning is one of several once standard practices that has since been deemed both illegal and unethical amid the intense scrutiny of the relationships between corporations and their investment bankers.
Those practices have been largely unraveled in recent years after a tidal wave of lawsuits and regulator activity aimed at creating a more transparent environment for investors to make decisions. Everything from how investment banks priced initial stock offerings to the way they sold stock analysts' services has since been re-examined and in many cases altered.
Various Lawsuits
"The pendulum has swung quite a ways back to where investment bankers and analysts act far more conservatively than they did five or ten years ago," Tuck School of Business Professor Kent Womack told the E-Commerce Times. "At the time, there wasn't necessarily anything wrong with the approach — it was how everyone did things. But in hindsight, and in context of everything else that has happened, the view is much different."
The various lawsuits have yielded much different results. Suits against famed analyst Mary Meeker, for instance, who was accused of pumping stocks with favorable reports as a way of helping her bank, Morgan Stanley, win clients, were tossed out. A number of other suits alleging "laddering," the practice of having IPO share prices deliberately under-priced to ensure a large first-day price increase, have been rendered moot by the bankruptcies of firms such as Webvan and eToys.
One suit did hit paydirt, however, when some 300 dot-com firms signed onto a $1 billion settlement of claims of laddering in stock pricing.
Image Preservation
The settlement likely represents the best possible outcome for the plaintiffs, since it was never argued that the three benefited more than the $3 million or so involved in the payback.
In addition, analysts said the fact that Whitman and the others did not have to admit wrongdoing was likely a key element in the settlement.
Whitman has built a powerful reputation as not only a keen leader of one of the most important pure e-commerce companies but has also managed to steer her company through the dot-com boom and bust without the tarnish of scandal that has touched other companies like it — such as questions about accounting practices during the dot-com boom.
EBay has had run-ins with patent cases, but recently won a major victory in its attempt to have the largest outstanding patent judgment against it set aside.