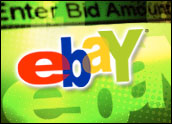 Profits dropped at eBay last quarter, but the online marketplace still delivered a solid earnings report for Q2 that beat analysts' expectations. eBay's results provide a welcome boost to the tech sector,whose performance has been all over the map this earnings cycle. They also validate the direction CEO John Donahoe has been taking the company: away from its small-garage-sale roots and toward large-scale sellers and buyers.
eBay's net income for the quarter was US$357.1 million, or 28 cents a share — with earningsclocking in at 39 cents a share, 5 cents more than the 34-cent analyst estimate. That was a drop from the same period last year, when net income registered $460 million. Sales in Q2 were $2.02 billion; analysts had expected $1.94 billion.
There were no big surprises in the report other than those pleasant improvements over expectations, Frederic Ruffy, the senior options strategist at WhatsTrading.com, told the E-Commerce Times.
Even Skype — which is widely viewed as a poor acquisition choice for eBay — contributed $153.2 million in revenue, up 21 percent from a year ago, Ruffy noted. Skype added 37.9 million subscribers in the quarter.
The lack of negatives is probably the main reason for the positive reaction in the share price, Ruffy said. Shares had risen 5.4 percent by mid-morning Thursday.
Certainly, Wall Street's thumbs-up is welcome to shareholders: eBay shares fell 10 percent during the first quarter and more than 60 percent in 2008 on concerns that deteriorating economic conditions andproblems in the financial world would result in sluggish online spending and slower revenue growth for the company, Ruffy noted.
eBay also reassured investors by offering in-line guidance for the next quarter, saying it expects to earn between 34 and 36 cents, he continued. "The consensus is 35 cents."
The Big Picture
eBay's solid earnings report aside, the company still needs to address larger issues if it wants to reposition itself, Peter Cohan of Peter Cohan & Associates, told the E-Commerce Times.
Donahoe's measures have been a good start, he said, but the company needs to take other strategic measures to ensure its long-term success.
"For example, I can't for the life of me figure out why they bought Skype," Cohan remarked.
Meanwhile PayPal — which, unlike Skype, fits perfectly with eBay's business model — has not beenfully exploited, he added.
There is also growing discontent among the site's seller community.
eBay itself has acknowledged these shortcomings, noted Cohan. "They have a new CEO, and it looks as though they are trying to fix these problems."
Recent Maneuvering
Indeed, eBay has made moves to reposition itself in recent weeks. It is making a $1.2 billion play for South Korea's Gmarket, the country's largest online marketplace. It has also indicated it will spin off Skype in a public offering next year.
Skype has successfully grown its user base since being acquired by eBay over three years ago — but it is equally clear the VoIP (voice over Internet protocol) service provider is not a synergistic match for an online auction house.
It's also clear that eBay will be focusing on wringing more out of PayPal. Last month, CEO John Donahoe told Wall Street analysts that the online paymentunit offered the company its greatest potential for growth: It expects that business to double by 2011.
eBay also is planning to institute changes to its Marketplace business, Donahoe added.