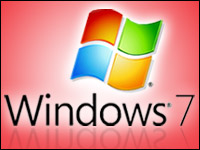 Though it's officially less than two weeks out of the gate, Microsoft's Windows 7 already owns a 3 percent share of the market for personal computer operating systems, according to Net Applications. When Windows 7 was generally released on Oct. 22, it already had a 1.99 percent share of the market, the firm reported. That figure rose to 3.67 percent by the end of last week.
These gains did not come from Apple's market share, which in fact experienced a slight bump in October.
So what does this mean, some 10 days after Windows 7's release? Has the specter of Vista finally been vanquished? Can Apple breathe a sigh of relief?
Not hardly, says Michael Cherry, an analyst with Directions on Microsoft. "It is far to soon to make any long-term assessments of marketshare, and I would even say it is too soon to make a current or immediate-term assessment of it," he told the E-Commerce Times. "There is no way to reliably measure marketshare at this stage of the Windows 7 release."
Longer-Term Trends
While the precise numbers may be up in the air, there is at least some evidence supporting a generally positive trends for Windows 7.
For example, nearly 60 percent of the respondents in a recently released ITIC/Sunbelt Software survey of 1,500 companies said they would deploy Windows 7, with approximately 30 percent transitioning to the new Microsoft desktop operating system within the first six months. Another 11 percent of respondents indicated they would wait for the first service pack to ship. The survey was released shortly before the Windows 7 launch, Laura DiDio, principal of ITIC, told the E-Commerce Times, and it reflected the widely cited pent-up demand for a new OS.
"What came out in our essay questions and first-person interviews is that people have been playing with it for long time, and a surprising number had already adopted it," said DiDio.
Only 10 percent of Microsoft's installed base migrated to Vista, so growth and adoption of Windows 7 was a foregone conclusion, presuming nothing disastrous occurred with the rollout or subsequent reviews.
So Far, So Good
So far, nothing untoward has happened along those lines, according to Rob Enderle of the Enderle Group.
"Installations, which have been at record numbers thanks to the pre-orders, have been going in rather well. This is typically when you have the most breakage," he told the E-Commerce Times.
Still, there have been some issues: "Some folks who have upgraded have run into reliability problems, with the best guess being the Vista drivers that were passed across during the upgrade were not good for Windows 7," said Enderle.
"In addition, there are some problems with the last Adobe Flash update, which seems to not like IE 32 on the 64-bit version of Windows 7, which is the most common OEM build," he said.
Initially, it appeared that would be a big problem, but it hasn't turned out to be. "Adobe may have patched it in time," said Enderle.
If Microsoft hadn't been able to overcome the same problems that plagued Vista, a different story might be starting to unfold now, said ITIC's DiDio. The pent-up demand would still exist — but Apple would be the likely recipient of it, if not immediately upon Windows 7's launch, then soon after.
So far, however, the Windows 7 rollout has not been marred by any ghosts of Vista.
"Microsoft did learn from its past mistakes," commented DiDio. "This time around, for instance, it has been very engaged with its OEM partners. I have spoken with Dell, HP and Acer, and they are all saying 'this is most comfortable we have been with an OS release in a long time.'"
It helps that the OEM hardware vendors are seeing their own sales spike with Windows 7 — and just in time for the holidays, DiDio added.
"Their success is tied to success of Windows 7," she said. "All of these companies have specials involving Windows 7."