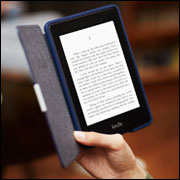 More bibliophiles are turning to e-books rather than their paper forebears for their reading consumption.
The percentage of people who read e-books in the past year jumped from 16 percent to 23 percent, according to a study by the Pew Research Center's Internet & American Life Project.
As tablet and e-reader ownership rises, so does the amount of e-reading, the survey of 2,252 people 16 and older in the U.S. found. The percentage of tablet or e-reader owners rose to 33 percent from 18 percent last year.
One-quarter of those surveyed own a tablet device, such as the iPad or Kindle Fire, up from the 10 percent who owned one a year ago. Ownership of some of the first models of e-readers, such as Kindles and Nooks, which lack bright, color displays, rose from 10 percent in 2011 to 19 percent this year.
Printed book reading fell as e-reading rose. The ratio of people who had read a book over the past year dropped to 67 percent, down from 72 percent a year ago.
The average e-reader is between 30 and 49, has a college degree and has a household income over $75,000, the study found.
Evolving Bookshelves
The rapid rise of e-reading is changing the way the more traditional literary institutions operate. Libraries and publishing houses have had to change their modes to accommodate the trend.
Even though the percentage of users who had borrowed an e-book from a library increased from 3 percent to 5 percent this year, Pew noted that many public libraries need to expand both their electronic offerings and their promotion of e-books.
Still, there is a general acknowledgement among most of the public institutions that libraries can be a place for technology to flourish, not die, said Lee Rainie, director of the Pew Internet & American Life Project.
"For 15 years, libraries have been the foremost community-based institutions that have embraced technology," he told the E-Commerce Times. "Virtually all libraries offer computers and access to the Internet and lots of libraries are among the most enthusiastic users of social media. Beyond that, many libraries are rethinking their missions and role in their communities and in lots of cases are redesigning their physical spaces and adjusting their resources to take account of the shifting needs of patrons."
Content is King
While a lack of hardware was once the first obstacle to e-reading adoption, the market is now full of a diverse set of options — from simple devices just for reading to high-powered tablets. Acquiring and distributing quality content is now the most important step in the changing publishing market, said Pete Wahlstrom, analyst at Morningstar.
"The best way to remain relevant is to continue to put out high-quality content. Period," he told the E-Commerce Times. "We have been expecting the rate of device sales to slow as the market becomes penetrated/saturated, and digital content sales to ramp up, as more people have devices and spend each month."
In that way, publishing houses, libraries and tech giants that offer e-readers such as Apple, Amazon and Barnes & Noble are all facing the same challenges in curating affordable, fast and quality content. It's a set of challenges that other industries, particularly entertainment, has seen before, said Geoff Woollacott, senior analyst and engagement manager at Technology Business Research.
"They need quality content available in multiple formats," Woollacott told the E-Commerce Times. "They need to work on quick distribution akin to iTunes and what it did to the music industry. It menas a liquidation of a huge aspect of what has been the traditional distribution arms."