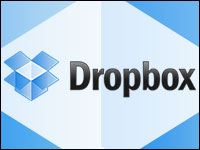 Dropbox has completed a US$250 million Series B financing — a windfall for a company whose fundraising up until now has netted $7.2 million.
The financing was led by Index Ventures with participation from Benchmark Capital, Goldman Sachs, Greylock Partners, Institutional Venture Partners, RIT Capital Partners, and Valiant Capital Partners, as well as participation from early investors Sequoia Capital, Accel Partners, and Hadi and Ali Partovi.
Dropbox plans to use its new riches to accelerate its growth, make acquisitions, pursue partnerships and otherwise grow the company. This year it is already on track to triple its user base. Dropbox claims that it now has more than 45 million users saving 1 billion files every three days on its service.
It is easy to see why investors are lining up to support the company. Its premise is a deceptively simple one that addresses a fundamental need of computer users: It stores files — documents, videos, photos or presentations — in the cloud, allowing users to download files to any computer or device.
Dropbox charges $10 a month for 50 gigabytes of storage and $20 for 100 gigabytes, The first 2 gigabytes of storage are free.
Such a service is downright essential for people who own or work with multiple computers and Internet-connected mobile devices.
So compelling is its premise that Apple reportedly wanted to buy the company. Dropbox's cofounder Drew Houston turned down a nine-digit figure made personally by Steve Jobs, according to Forbes.
Dropbox did not respond to the E-Commerce Times' request to comment for this story.
Tough Competition
Dropbox will need the funds to go up against some well-heeled competitors. There is Box.net, which recently secured a significant amount of funding, as well as Microsoft's more-established Sharepoint.
Then there is iCloud, Apple's new data syncing service that lets users transfer data and share files among all of their Apple devices.
iCloud is much more than just a file-sharing service, though. It can sync a user's iTunes-purchased songs across devices, for example. It also offers a service called "iTunes Match" for US$24.99 per year that lets users sync whole music libraries.
As the number of Apple device users proliferate, iCloud represents one more threat to Dropbox.
Aside from Apple's presence, the cloud in general could pose a huge threat to Dropbox, as it targets its very business model. As more and more computing operations shift to the cloud, file-sharing services eventually could become unnecessary.
Leader of the Disorganized
However, there are those — certainly Index Ventures, et al — who don't see obsolescence as a significant threat for the foreseeable future.
"As long as there are disorganized folks who use computers, Dropbox will survive," Joe Silverman, CEO of New York Computer Help, told the E-Commerce Times.
"Our home customers and small business clients don't know how to keep track of files on their iPhones, laptops, iPads, and desktops," he said. "Dropbox makes is easy for them by sharing all their devices' files for easy access."
There are other service providers, he noted, but even the largest ones — such as Amazon, Google Apps and Microsoft — just act as storage space services. "You store and share files on their cloud, and that's it. With Dropbox, it offers some intelligence behind it to de-clutter your files. As long as there is this added bonus, there will still be life in Dropbox," Silverman concluded.
iCloud does offer a similar organizational component, he allowed, but its compatibility is limited.
One advantage of Dropbox is that it lets users create a virtual disk drive on the cloud that can then be made public, "thereby circumventing email limitations on size of files," Jorge Espinosa, a founding member of Espinosa Trueba, told the E-Commerce Times.
"Dropbox's long-term future on the cloud is strong," he said. "This ability to create a virtual disk drive which is synchronized through the Internet to all of your devices, including smartphones, is something people want."