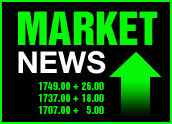 The long-anticipated year-end rally got under way in earnest on Wall Street today as stocks roared higher, pushing the Dow to its highest level in more than three years.
The Dow closed at 10,759.43, up 97.83 points, or 0.92 percent on the session, its best closing price of the year and the highest since May of 2001. The Nasdaq actually had a stronger percentage gain on the session, rising 23.06 points, or 1.08 percent, to 2,150.91. The S&P 500 climbed 10.79 points, or 0.90 percent, to finish at 1,205.44.
Technical Factors
Traders say traditional technical factors helped fuel the rise, with year-end cash flowing into stock-based mutual funds and other investment vehicles needing a place to go. Others say the surge was the manifestation of what is typically a strong end of the calendar year for stocks, a period often referred to as the Santa Claus rally.
Pacing the Dow was Intel, which saw its shares rise 3.5 percent on the session after an upgrade.
Among the biggest Dow gainers was Pfizer, enjoying a 2.8 percent bounce after several days of losses. Also helping was a rebound in the shares of Pfizer, which gained back 2.5 percent after several days of erosion after it announced that its Celebrex arthritis drug posed a risk of heart problems.
On the Nasdaq, Internet company IAC Interactive was up nearly 6 percent after it announced plans to split off its Expedia travel site.
Oil Tame as Winter Arrives
Other factors might have helped push stocks higher as well, including oil prices that remain largely in-check. Crude futures fell slightly today, losing just 2 cents to close at US$45.76 per barrel in trading on the New York Mercantile Exchange.
Oil prices remained calm despite renewed predictions that the first prolonged stretch of truly wintry weather for much of the nation is likely to start later this week.
Even the dollar, which has persistently been a source of concern for many investors recently, got into the positive mood today, rising 0.2 percent against both the euro and the yen.