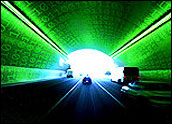 The online advertising market will remain soft until the second half of next year, said executives at Internet marketing company DoubleClick (Nasdaq: DCLK) on Tuesday, after the company reported a wider loss for the second quarter ended June 30th.
"The second quarter was another difficult one, and we expect these conditions will persist through at least the fourth quarter of this year, if not the middle of next year," said DoubleClick chief executive officer Kevin Ryan in a conference call with analysts and investors late Tuesday.
DoubleClick said that revenue for the quarter slipped 20 percent from a year earlier to US$101.9 million. The loss before non-cash and other charges widened to $9.5 million, or 7 cents per share, from $3.82 million, or 3 cents. The results were in line with analyst forecasts for a loss of 8 cents per share.
The net loss, meanwhile, grew to $37.92 million, or 29 cents per share, in the latest quarter, from $22.13 million, or 18 cents, a year earlier.
E-Mail Marketing
While it waits for the online ad market to recover, DoubleClick is diversifying its sources of revenue, with a bigger percentage now coming from e-mail and research services, executives said.
The company plans to acquire MessageMedia (Nasdaq: MESG), an e-mail marketing company, for $41 million in stock. In April, DoubleClick bought FloNetwork, a provider of e-mail marketing technology.
Year Isn't Over
DoubleClick executives said they still aim to meet their full-year target of a 9 cent-per-share loss before extraordinary items, with a 6-cent loss in the third quarter.
"We will continue to take the necessary actions to effectively manage costs, including headcount reductions, to ensure that we meet our earnings goals," said chief financial officer Stephen Collins.
DoubleClick shares were down 69 cents at $11.33 in morning trading Wednesday as investors reacted to the news. The earnings results were released after the close of trading on Tuesday.
Eyes on Yahoo!
DoubleClick's report comes as investors await quarterly earnings news from Yahoo! (Nasdaq: YHOO), due after Wednesday's market close.
With the Internet ad revenue it has depended on in the past having been in decline, Yahoo!, like DoubleClick, has been trying to build earnings from other sources.
Yahoo! shares were also lower in morning trading Wednesday, slipping 78 cents to $17.05. Analysts expect the portal company to report breakeven earnings for the quarter just ended, down from income of 12 cents per share a year earlier.
Budget Increases
DoubleClick's Ryan said the online ad slump reflects a broader malaise in the "overall media and advertising world," rather than the decline of the dot-com economy.
Internet companies, he said, are hit harder than those in the traditional media industry because their advertisers tend to be more concentrated in the technology sector.
Travel and auto companies, he noted, are actually increasing their ad budgets.